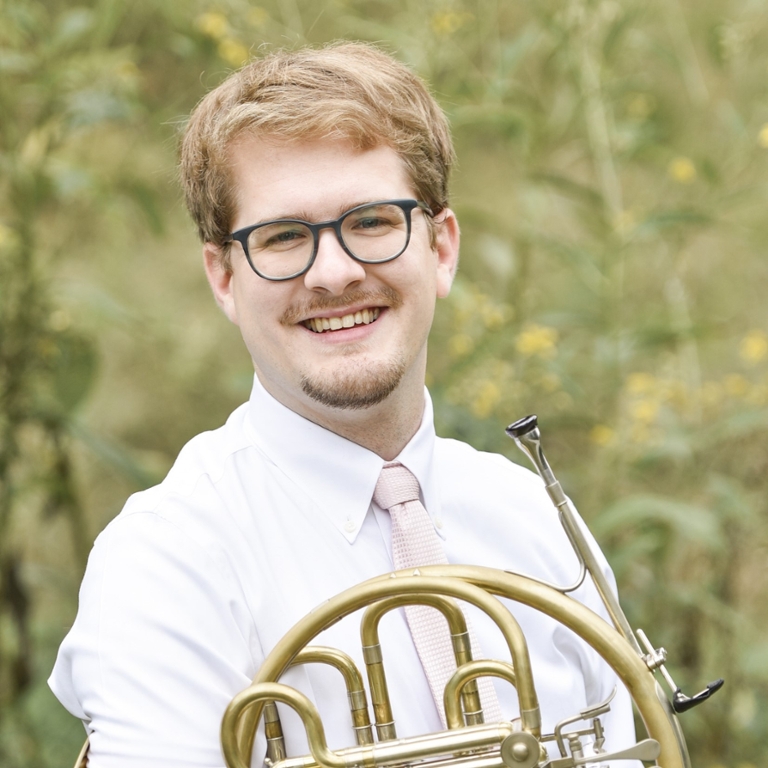 View full resolution
Email:

laanspac@indiana.edu

Website:
Department:

Chamber and Collaborative Music
Education
M.M., Horn, The Ohio State University, 2017
B.M., Horn, Indiana University, 2015
Layne Anspach is visiting lecturer in music in chamber music at the Indiana University Jacobs School of Music.
As a chamber musician, Anspach performs in a variety of ensembles. He founded and manages Ivory Winds, a mixed chamber ensemble of piano and winds, which performs lesser-known works for the instrumentation. Additionally, he performs in a trio including horn, tuba, and piano, which performed at the International Tuba and Euphonium Conference in June 2023 at Arizona State University. He also has experience with a variety of other ensemble configurations, including brass and wind quintets, horn trios (horn, violin, piano), and horn ensembles. Through chamber music, he seeks to connect with audiences by informing them on the historical significance of works.
In addition to chamber music, Anspach performs regularly as a freelance musician in orchestras across the Midwest. He is currently fourth horn in the Terre Haute Symphony Orchestra. An avid recitalist, he has performed dozens of unique recitals around the U.S. He performs on a Sorley Horn and is a Sorley Horns Artist.
Prior to his current position, he was adjunct instructor of horn at Valparaiso University. He previously served as associate instructor of horn at the Jacobs School of Music and teaching assistant in theory and aural skills at The Ohio State University. Additionally, he has served on faculty at the Csehy Summer School of Music since the 2021 season. He also maintains a private studio.
Anspach actively performs and commissions new music. He has commissioned works for piano and winds; horn, tuba, piano; and horn solos. As part of the August 2023 performance series, Ivory Winds will perform two new works commissioned by him. He also arranges and edits works for publication, which have been published with Songburd Music. Most recently, he published a new edition and piano reduction of Franz Strauss's Concerto No. 2, Op. 14 for horn and piano.
He also strives to further academic research on the horn; his interests focus on lesser known and underappreciated horn works, such as by Louis Spohr and Franz Strauss. In May 2021, Anspach's article "Together through Music: A Conversation with Thomas Jöstlein" was published in The Horn Call, the International Horn Society's journal, and he has presented lectures nationally and internationally. In July 2023, he presented a lecture on Louis Spohr's chamber music that includes horn titled "Spohr's Mixed Chamber Music for 5 to 9 Performers and their role in the 21st century."
Anspach holds a Bachelor of Music from the Jacobs School of Music and a Master of Music from The Ohio State University. He is currently A.B.D. for his Doctor of Music at Jacobs. His teachers include Richard Seraphinoff, Thomas Jöstlein, Bruce Henniss, Lin Foulk Baird, and Debra Inglefield.
While not focusing on music, he enjoys spending time with his family. His hobbies include fishing, hiking, traveling, and watching Cubs baseball.