FOR IMMEDIATE RELEASE
Sept. 21, 2017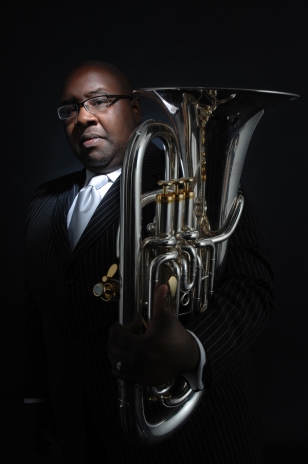 BLOOMINGTON, Ind. – The Indiana University Jacobs School of Music is pleased to announce the appointment of Demondrae Thurman as professor of music in euphonium, effective Aug. 1, 2018.
"We are thrilled to welcome Demondrae Thurman to the Jacobs School of Music faculty," said Gwyn Richards, David Henry Jacobs Bicentennial Dean. "He is an internationally recognized euphonium artist whose influence in the brass field is undeniable. And he is a consummate performer and pedagogue, who will challenge and inspire our students for years to come. The school anxiously awaits his arrival."
Thurman is widely considered one of the stars of a formidable generation of brass soloists. He has a firm international reputation as a euphonium soloist, having performed in Europe, Asia and throughout North America. He is in high demand as a performer and teacher at premier U.S. colleges and universities. Over the past 10 years, he has been a guest artist/clinician at many of the world's most prestigious euphonium festivals, including the International Tuba Euphonium Conference, U.S. Army Band Tuba and Euphonium Conference, and Leonard Falcone Competition.
"The Jacobs Brass Department is very pleased to welcome Demondrae Thurman," said Peter Ellefson, department chair. "Along with being one of the finest euphonium players in the world, Dr. Thurman is a noted pedagogue, chamber musician and conductor. His musicianship is a true reflection of his radiant personality. We look forward to having him join us and are particularly excited that our students will be able to work with such an accomplished musician."
Thurman is also an active chamber musician. He plays first euphonium and trombone in the highly regarded Sotto Voce Quartet. The quartet has released three recordings on the Summit Records label, all of which have received stellar reviews. He plays also first baritone horn in the Brass Band of Battle Creek, a British brass band comprised of many of the world's best brass and percussion performers. In addition to his chamber music work, he is in demand as a euphonium specialist for symphony orchestras, including the New York Philharmonic, Atlanta Symphony, Sarasota Orchestra, North Carolina Symphony and Philadelphia Orchestra.
"I am thrilled to join the faculty of the Jacobs School of Music at Indiana University," said Thurman. "The school is synonymous with excellence across the board. The current brass faculty is among the finest in the world. Having the opportunity to serve on the same faculty as the late William Bell and Harvey Phillips, luminaries in the low brass world, is humbling. I am honored to become the first dedicated euphonium teacher in the school's long and fruitful history."
Thurman released his first solo recording, "Soliloquies," on the Summit Records label in 2005. His second album, "Songs of a Wayfarer," was released in 2011, and "Snapshots: The Spirit of Collaboration" was released in 2014. He can also be heard on recordings with the Atlanta Symphony Orchestra, Brass Band of Battle Creek and New South Jazz Orchestra.
He is a Miraphone Performing Artist and plays exclusively the Miraphone 5050 Ambassador "Edition" euphonium, which was designed specifically for him. He also plays the custom "Demondrae" model mouthpiece, manufactured by Warburton Music Products, and is a Shires Trombone Performing Artist.

Thurman's primary teachers were John Stevens, J. Michael Dunn, James Jenkins and Daniel Drill.
For information regarding admissions and studying with Thurman, please contact the Jacobs School of Music Office of Admissions and Financial Aid at musicadm@indiana.edu or 812-855-7998.
MEDIA CONTACT
Linda Cajigas
Assistant Director of Communications
IU Jacobs School of Music
812-856-3882
lcajigas@indiana.edu