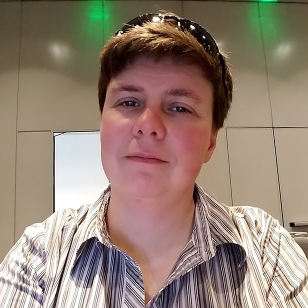 View full resolution
Phone:

812-855-3651

Email:

hstrong@iu.edu
Department:

Audio Engineering and Sound Production
Musical Arts Center, MC322

Biography
Haley Strong is interim production manager of the Musical Arts Center and IU Jacobs School of Music Opera and Ballet Theater at the Indiana University Jacobs School of Music.
Strong grew up in southern Indiana and began her career in Owensboro, Kentucky, where she was the assistant technical director and head of sound for the Riverpark Center, a non-profit performing arts center. There, she participated in events ranging from children's theater to national touring Broadway.
She also became involved in working with local performing arts organizations as well as assisting with the development of a multicampus performing arts degree with Brescia College, Kentucky Weslyan College, and Owensboro Community and Technical College (OCTC).
Strong developed multiple workshops to engage students as young as first grade in theater technology and education.
She earned an Associate of Arts degree from OCTC as well as multiple certificates in audio and stage technology.