FOR IMMEDIATE RELEASE
April 29, 2015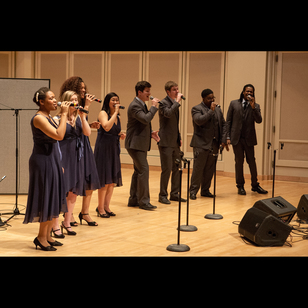 BLOOMINGTON, Ind. – The Indiana University Jacobs School of Music boasts four winners in DownBeat magazine's 38th Annual Student Music Awards, announced yesterday.
IU Vocal Jazz Ensemble I, directed by the late Steve Zegree, Pam and Jack Burks Professor of Music, has been named the Graduate College Winner in the Small Vocal Jazz Group category. The eight-member group, considered the top vocal jazz ensemble at the Jacobs School of Music, also won this category last year.
"Steve Zegree demonstrated why he is in the DownBeat Jazz Educator Hall of Fame," said Tom Walsh, chair of the Jacobs Jazz Studies Department. "He knew how to get excellent results with his vocal jazz ensembles. It is a tribute to Steve's success that Vocal Jazz Ensemble I was selected the winner in both years he submitted an IU group."
The Wallace Sextet, directed by Grammy-nominated jazz professor Wayne Wallace, has been named the Graduate College Outstanding Performance Winner in the Small Jazz Combo category.
Jazz voice major Reginald Bowens won in the Graduate Jazz Arrangement category for his vocal arrangement of "Human Nature," while fellow major June Lee won in the Undergraduate Jazz Arrangement category for his arrangement of "Acapella Christmas Medley." Bowens is a second-year master's student studying with faculty member Ly Wilder, and Lee is a junior studying with Wilder.
 "Reginald exhibits a beautiful jazz sensibility in his singing and his writing while drawing from a wide range of popular and orchestral influences," said Wilder. "It has been an absolute joy to watch him grow as a vocalist, an arranger and a teacher during his time at IU. His talents are formidable, and I'm thrilled for him that DownBeat is showing this recognition of the gifts he has to share.
"June expresses both his pianistic viewpoint and his love of singing and lush harmony in his arranging voice," Wilder continued. "We are excited for the encouragement provided by DownBeat in recognition of the outstanding potential June possesses in this area."
DownBeat magazine recognizes outstanding university ensembles and soloists in several categories through blind auditions, and the prestigious awards are considered one of the top student music competitions in the world.
"We couldn't be more proud of the outstanding work our students are doing," said Walsh. "The DownBeat awards are a national recognition of the quality of their work."
Alumni of the Jacobs School Jazz Studies Department can be found around the world working in every facet of the music business. Included in this elite group are Grammy Award-winners Randy Brecker, Michael Brecker, Chris Botti, Peter Erskine, John Clayton, Jerry Hey, Robert Hurst III, Shawn Pelton, Jim Beard and Jeff Hamilton, among others.