FOR IMMEDIATE RELEASE
Aug. 10, 2016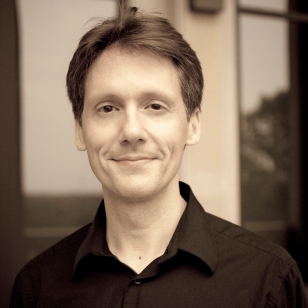 BLOOMINGTON, Ind. -- The Indiana University Jacobs School of Music is pleased to announce the appointment of Dana Marsh as associate professor of music (early music/voice) and director of its Historical Performance Institute.
He was visiting associate professor of music and coordinator of the Historical Performance Institute at the Jacobs School from 2014 to 2016.
"Over the course of these past two years, as Dana has served the area of Historical Performance in a visiting capacity, he has garnered the admiration and respect of the faculty and students," said Jacobs Dean Gwyn Richards. "It is with great anticipation that the Jacobs School looks forward to his permanent appointment and the inevitable impact of his presence, his personality, his vision and his knowledge."
Marsh has directed a broad range of major ensemble performances for the Historical Performance Institute, including NPR broadcasts with modern premieres of Latin American Baroque music as well as Italian and Spanish polyphony of the 15th and 16th centuries and music ranging from the "Eton Choirbook" to Purcell and Boyce, and from the Bach cantata repertoire to late Haydn, with the IU Classical Orchestra. He teaches early notation and performance practice and coaches early music voice as an outside area or minor for aspiring opera singers. He oversees the strategic planning and development of the Historical Performance Institute and serves as editor of the Historical Performance series published by IU Press.
In May 2015, Marsh was a panelist at the Smithsonian Institution's conference "Historically Informed Performance in Higher Education," and in May 2016, he organized the international conference "Historical Performance: Theory, Practice and Interdisciplinarity," which attracted scholars and performers to Bloomington from nine countries. That occasion served to launch a new annual, peer-reviewed journal, "Historical Performance" (IU Press), with its inaugural issue due for publication in 2017.

"Although Dr. Marsh has been with us for two years already—and organized the hugely successful international conference on the future of historically informed performance in the 21st century at the Jacobs School of Music earlier this year—we could not be more delighted that he has accepted the position of director of the Historical Performance Institute, which will allow him to fully unleash his enormous creative energy," said Wendy Gillespie, chair of the Early Music Department. "We are certain that Dr. Marsh will ensure the continued success and evolution of the institute that Thomas Binkley founded in 1980."
Marsh's early training came as a boy chorister at St. Thomas Choir School in New York and at Salisbury Cathedral in England. He earned his undergraduate degree as an organist from the Eastman School of Music, with master and doctoral degrees in historical musicology from the University of Oxford. His voice teachers have included Virginia Fox, Kari Windingstad and Max Van Egmond, with organ studies under Peter Hallock, David Craighead and Gerre Hancock (improvisation).
He has taught early music history at Oxford and Cambridge universities and has published original research and review articles through the scholarly presses of both institutions. Before coming to IU, he served as assistant director of music at Girton College Cambridge (U.K.) and was canon organist and director of music at Christ Church Cathedral, Indianapolis.
Acclaimed by the Los Angeles Times as "an energetic and persuasive conductor," Marsh has entered into fruitful collaborations with the London Mozart Players, Choir of St. Thomas Fifth Avenue, Magnificat (U.K.), Cappella Romana, Ensemble Charivari Agréable, Band of Instruments, City of Oxford Orchestra, Musica Angelica Baroque Orchestra and Indianapolis Baroque Orchestra. While studying in the U.K., he founded the ensemble Musica Humana Oxford (2001-2008), which toured the U.S. to critical praise.
Cited by The New York Times as "a powerful and expressive countertenor," Marsh also worked as a vocal soloist and consort singer in the U.S. and the U.K. (1992-2008), performing with the American Bach Soloists, Concert Royal, New York Collegium (under Gustav Leonhardt), Seattle Baroque Orchestra, Musica Angelica Baroque Orchestra, Cappella Portuguesa and Brabant Ensemble as well as in lute song recitals with the late James Tyler. While undertaking his doctoral research, Marsh sang regularly with the Choir of New College Oxford under Edward Higginbottom, performing in numerous collaborations with the Academy of Ancient Music, Orchestra of the Age of Enlightenment and European Union Baroque Orchestra, and recording 15 discs with New College Choir, one of which won the Gramophone Award for Early Music in 2008.
Marsh has prepared ensembles of young singers for concert and recording engagements with the Los Angeles Philharmonic under Esa-Pekka Salonen and Antonio Pappano. He has recorded variously for Sony, Universal, Avie, Decca, Erato, Koch International Classics, Signum and Public Radio International.
He also serves on the faculty of the William Byrd Festival and was recently elected to the board of Early Music America, serving on its higher education committee. He is also a board member of Bloomington Early Music.
"I'm as humbled as I am elated to be given this rare opportunity to serve the Jacobs School," said Marsh. "As the Historical Performance Institute's vision places a strong emphasis on interdisciplinary research and performance, it would be hard to imagine a more ideal environment for that project, set as it is in a world-class music conservatory on the campus of a leading public university. It's a tailor-made fit for ongoing work in our field, and the institute plans to inspire and cultivate new modes of collaborative performance and research."