What: Jazz Celebration, featuring inaugural Jazz Alumni Hall of Fame
When: 8 p.m., Saturday, April 23
Where: Musical Arts Center, 101 N. Jordan Ave., Bloomington
Tickets: Reserved seating tickets are available from the Musical Arts Center box office, 812-855-7433, 11:30 a.m.–5:30 p.m., or online. $10-$15 Regular, $5 Students with ID.
Video Streaming: This event will be live-streamed via IUMusic Live!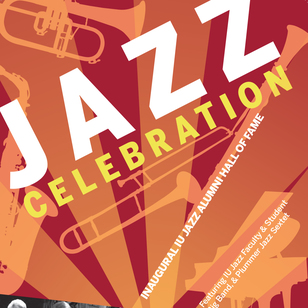 FOR IMMEDIATE RELEASE
April 12, 2016
BLOOMINGTON, Ind. – The Indiana University Jacobs School of Music is pleased to present its annual Jazz Celebration at 8 p.m. on Saturday, April 23, at Bloomington's Musical Arts Center.
This year will feature a celebration of the inaugural class of the Jacobs School of Music Jazz Alumni Hall of Fame: Jamey Aebersold, Buddy Baker, the late David Baker, Jerry Coker, Roger Pemberton, Whit Sidener and Dominic Spera. An IU jazz faculty and student big band, the Plummer Jazz Sextet and others will perform music of the honorees.
These seven alumni helped shape the history of jazz education in the United States, and their contributions to music education have been implemented worldwide. Individually, they are pioneering authors, a leading publisher, prolific composer/arrangers, outstanding performers and influential jazz educators and arts advocates. They have established and led some of the country's most vibrant jazz studies programs, and their students have gone on to become Grammy Award-winning performers and award-winning composers, arrangers, authors and educators who continue to spread the gospel of jazz.
The collective impact of their work has reached many thousands of musicians around the world, and it establishes the historical importance of the Indiana University Jacobs School of Music as a significant fountainhead of jazz education.
David Brent Johnson, host of WFIU's "Just You and Me" and "Night Lights" jazz programs, will emcee the event, which is part of April's Jazz Appreciation Month.
General admission tickets--$10-$15 for non-students and $5 for students with ID—are available from the Musical Arts Center box office 11:30 a.m. to 5:30 p.m. Monday through Friday. The concert will be live-streamed via IUMusic Live!
Jazz Celebration 2016 is sponsored by Old National Wealth Management.
About the Inductees
Jamey Aebersold is best known as the creator of the popular Jamey Aebersold Jazz Play-A-Long series. He is an internationally known saxophonist, educator, author and publisher of books for developing skills in jazz improvisation. His Summer Jazz Workshops established the model for small group jazz instruction and attract students from around the world. A tireless educator, he plays more than 60 public school concerts each year. Aebersold was named the A.B. Spellman National Endowment for the Arts Jazz Master for Jazz Advocacy in 2014. He graduated from Indiana University with a Master of Music degree in 1962 and received an honorary doctorate from IU in 1992.
Buddy Baker earned a bachelor's degree in music from Indiana University in 1954. After completing his master's degree in 1959, he joined the IU faculty, charged with teaching trombone and beginning a jazz program. In those early years, he also toured with the Stan Kenton and Woody Herman big bands. In 1965, Baker moved to Colorado and founded the jazz studies program at the University of Northern Colorado, which subsequently developed into one of the premier jazz programs in the country. He maintained a very active career as a classical and jazz trombonist, clinician and author of method books for trombone.
David Baker, who died March 26, earned his bachelor's (1953) and master's (1954) degrees in music education from Indiana University. He performed in the big bands of Lionel Hampton, Stan Kenton, Maynard Ferguson and Quincy Jones, and was a member of the innovative George Russell Sextet. Baker joined the IU faculty in 1966 and oversaw the establishment of bachelor's and master's degree programs in jazz studies. An IU distinguished professor of music, he was chair of the IU Jazz Studies Department from 1968 to 2013. A prolific performer, composer and author, he has more than 75 recordings, 70 books, 400 articles and 2,000 compositions to his credit. A 1973 Pulitzer Prize nominee, Baker received five honorary doctorates and numerous prestigious awards, including a National Endowment for the Arts Jazz Master Award in 2000, Emmy Award in 2003 and Living Legend Award from the John F. Kennedy Center for the Performing Arts in 2007.
Jerry Coker began his career touring with the Woody Herman big band in 1953. He later attended Yale and earned bachelor's and master's degrees from Sam Houston State University before attending Indiana University as a doctoral student in woodwinds. While at IU, he led the Indiana University Jazz Ensemble on an historic U.S. State Department-sponsored tour of the Near and Middle East, playing more than 100 concerts from January to June of 1966. He went on to found the jazz programs at the University of Miami and the University of Tennessee. Coker is the author of 20 books and has recorded with Woody Herman, Nat Pierce and Clare Fischer as well as under his own name.
Roger Pemberton earned a master of music degree in woodwinds from Indiana University. In 1961, he became the first instructor of saxophone and jazz composition at IU. He left IU to move to New York City, where he served as arranger and saxophonist for "The Merv Griffin Show." Pemberton also performed and recorded with the big bands of Woody Herman, Maynard Ferguson and Les Hooper, and has two solo albums to his credit. His compositions and arrangements are published by Studio P/R, Hal Leonard, William Allen Music and UNC Jazz Press. He is professor emeritus at the University of South Carolina and has been awarded two honorary doctorates.
Whit Sidener attended Indiana University in the mid-1960s and was a member of the Indiana University Jazz Ensemble for the 1966 tour of the Near and Middle East under the direction of Jerry Coker. He earned his bachelor's and master's degrees in music performance at the University of Miami and subsequently joined the faculty. He became chair of the Department of Studio Music and Jazz at the University of Miami, one of the leading jazz programs in the country. At Miami, he led the Frost Concert Jazz Band, which recorded and toured extensively and won 15 "DownBeat" Student Music Awards. Sidener has played saxophones and flute on nine platinum albums, three platinum singles and three gold singles with the Bee Gees, Andy Gibb and K.C. and the Sunshine Band.
Dominic Spera performed professionally in New York City for 10 years, working in television and recording studios including the Firestone and Fred Waring television shows. He played lead trumpet in several Broadway shows and in the bands of Lionel Hampton, Andy Kirk, Charlie Barnet, Billy Butterfield, Tito Puente, Benny Goodman, Tommy Dorsey and Les and Larry Elgart. After graduating from Indiana University, he taught trumpet and jazz courses at the University of Wisconsin at Eau Claire from 1968 to 1976. He then joined the faculty at Indiana University and taught jazz arranging and composition, jazz history, jazz ensemble and jazz pedagogy until his retirement in 1997. He is a prolific composer/arranger credited with over 100 jazz ensemble compositions.