FOR IMMEDIATE RELEASE
Feb. 22, 2016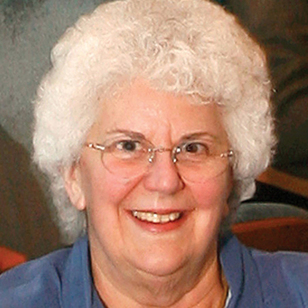 BLOOMINGTON, Ind. – The Indiana University Jacobs School of Music has received a $6.5 million planned gift from Mary H. Wennerstrom, Jacobs associate dean emerita for instruction, and Leonard M. Phillips, her late husband, for piano scholarships and the endowment of the directorship within the William and Gayle Cook Music Library, part of the IU Libraries.
The Wennerstrom-Phillips Music Library Directorship Endowment combines a five-year pledge and an estate gift, and is one of the largest estate gifts ever committed by a retired faculty member of the Jacobs School of Music. This gift contributes to IU's $2.5 billion campaign, For All: The Indiana University Bicentennial Campaign and will receive a match from the university.
"Mary Wennerstrom served the Jacobs School in a variety of capacities for more than 51 years, leaving an indelible mark on our students, curricula and future," said Jacobs Dean Gwyn Richards. "The gift that she and her husband, Leonard Phillips, have made provides a lasting opportunity for our Cook Music Library and our school, its students and its faculty. It also ensures that Mary and Leonard will continue to have a positive impact long into the future on a school they loved so much, and which, in turn, loved and admired them beyond measure."
"Mary and Leonard have supported the William and Gayle Cook Music Library for a long time," said Phil Ponella, music library director. "This new gift creates possibilities for the future of the library that we could never have imagined and highlights the special significance the Cook Music Library holds not only for the students, faculty and alumni of the Jacobs School of Music and Indiana University, but throughout the world, where it is recognized as one of the premier research libraries for music. I am honored to have their names associated with my work."
The William and Gayle Cook Music Library is recognized as one of the largest academic music libraries in the world, with over 700,000 catalogued items on 56,733 linear-feet of shelves. It occupies a four-floor, 55,000 square-foot facility in a wing of the Bess Meshulam Simon Music Library and Recital Center on the IU Bloomington campus, dedicated in November 1995.
"Leonard and I both earned Ph.D.'s from the Jacobs School, so we spent a lot of time in the library," said Wennerstrom. "We thought giving to the library would have the most wide-ranging effect on the school since it touches all of the students and underlies the school's entire foundation, in both performance and academia. Hopefully, the endowment will help ensure that this critical component of Jacobs will thrive well into the future."
In addition to the endowment, part of the gift will be used to fund the Wennerstrom-Phillips Piano Scholarships.
Although Wennerstrom and Phillips each earned doctorates in academia from the Jacobs School—in music theory and musicology respectively—they each started at the school as piano performance students in 1957. Wennerstrom earned a bachelor's in piano then a master's in music theory with a minor in piano, studying with Bela B. Nagy and Menahem Pressler during her time there. Phillips minored in piano, also studying with Bela B. Nagy, and taught piano and academic music courses at the University of Central Arkansas.  He later was employed by the Indiana University Foundation and the Jacobs School of Music, retiring in 1997, and served a term as president of the Friends of the Lilly Library.
Their previous gifts to the Jacobs School of Music include a music theory associate instructor teaching award and an endowment for general support of the Cook Music Library.
Wennerstrom joined the Jacobs School faculty in September 1964 and retired as associate dean for instruction, a position she held for 13 years, in December 2015. She served as chair of the Department of Music Theory from 1979 to 2002 and is a former member of both the Jacobs and the University Library committees.
Among other honors, Wennerstrom received the IU President's Distinguished Teaching Award in 1993, a lifetime achievement award from the Society for Music Theory—where she served as treasurer for 14 years—in 2002 and the Gail Boyd de Stwolinski Prize for Lifetime Achievement in Music Theory Teaching and Scholarship in 2006.
"The music school has really been my whole life," said Wennerstrom. "We always hoped the things about which we cared most deeply—good students and good resources—would get perpetuated. We see it as an important investment in the future and hope to inspire others to do what they can also. Even a modest pledge can make a difference."
Other recent donations to the Jacobs School of Music as part of IU's Bicentennial Campaign include $20 million from David H. Jacobs, alumnus; $1 million from the Georgina Joshi Foundation Inc., in honor of former voice student Georgina Joshi; and $250,000 from Ted Jones, the school's former director of technical facilities.
For All: The Indiana University Bicentennial Campaign is taking place on all IU-administered campuses: IU Bloomington, Indiana University–Purdue University Indianapolis, IU East, IU Kokomo, IU Northwest, IU South Bend and IU Southeast. The campaign will conclude in December 2019 to coincide with IU's bicentennial year celebration in 2020. To learn more about the campaign, its impact and how to participate, please visit forall.iu.edu.