FOR IMMEDIATE RELEASE
Feb. 16, 2016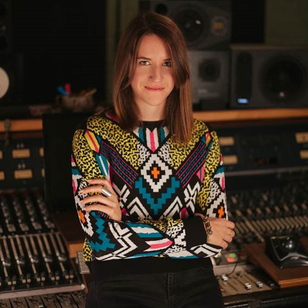 BLOOMINGTON, Ind. – Three alumnae from the Indiana University Jacobs School of Music are in a Grammy daze today following last night's broadcast of the 58th Annual Grammy Awards.
Laura Sisk, a 2010 Jacobs graduate and a Barbara and David Jacobs Scholar, grabbed a golden gramophone for her engineering work on Taylor Swift's smash pop release "1989" when it won Album of the Year.
"I feel forever grateful for the education I received at IU, and I consider all of the Recording Arts faculty I worked with there to be my mentors; they have been huge influences in my life," said Sisk. "Their support and mentorship have continued long since I graduated, and I still come to them for advice as I continue to navigate the industry."
Read Sisk's recent interview with IU Communications.
Soprano Lindsey Lang is a proud member of the Kansas City Chorale, whose "Rachmaninoff: All-Night Vigil" recording won Best Choral Performance. Lang studied for two years at the Jacobs School's then Early Music Institute.
Internationally renowned soprano Angela Brown, an Indianapolis native, contributed her vocal prowess on "Ask Your Mama," which won Best Engineered Album–Classical and Producer of the Year–Classical. Among many other honors, Brown received IU's Distinguished Alumni Service Award in 2015.
"I'm thrilled to be a part of the Grammy-winning recording 'Ask Your Mama,' a project that started out for Laura Karpman as a labor of love and has gleaned love from the world!" said Brown.
Brown will perform with the Carmel Symphony Orchestra at The Palladium at the Center for the Performing Arts at 7:30 p.m. on Saturday, March 12.