FOR IMMEDIATE RELEASE
May 20, 2015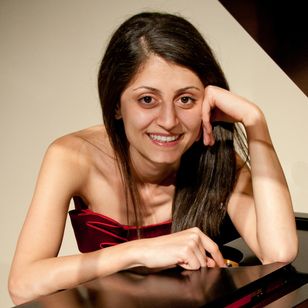 BLOOMINGTON, Ind. – Indiana University Jacobs School of Music student Knar Abrahamyan has received a Fulbright U.S. Student Award to conduct research in Moscow, Russia, during the 2015-16 academic year. She is currently pursuing an M.M. in Music Theory while continuing her piano studies and will graduate in August 2015.
"I am extremely grateful to my professors who have mentored and encouraged me during the Fulbright application process," said Abrahamyan. "With this unique opportunity, I am hoping to produce a synthesized analytical approach for deciphering political metaphors in music and adding a compelling fresh perspective to the extant English-language scholarship on Soviet opera. I intend to disseminate my research discoveries through teaching, continuing engagement with the Russian Music Theory Interest Group of the Society for Music Theory, publishing articles and presenting at music theory conferences." 
Abrahamyan's research will focus on the history of Russian music theory traditions and operas by Soviet composers, particularly Sergei Prokofiev and Dmitri Shostakovich. While in Moscow, she will work with two of the leading professors at the Tchaikovsky Moscow State Conservatory: Tatiana Kyuregyan, professor of music theory, and Ekaterina Vlasova, professor of musicology. After returning to the United States, Abrahamyan will pursue a Ph.D. in Music Theory at Yale University, where she plans to use the research results gathered in Moscow for writing her dissertation.
"Knar commands an exceptional set of skills in music theory and beyond, and is uniquely qualified to investigate an area of study still relatively inaccessible to us," said Frank Samarotto, associate professor of music theory. "I look forward to her becoming a scholarly ambassador to the world of Russian music theory, to the benefit of all."
A native of Armenia, Abrahamyan moved to Cleveland, Tenn., with her family eight years ago. There she attended Lee University, where she received a B.M. in Piano Performance and a B.A. in Communication Studies/Advertising in 2012, as well as an M.M. in Piano Performance in 2013.
She is the recipient of the 2012-13 Armenian General Benevolent Union Performing Arts Fellowship and the 2012 Lee University School of Music Department of Instrumental Music Performance Award. She is also the winner of the 2011 Southern Adventist University's Concerto Competition, Collegedale, Tenn., and the third-prize winner at the 2010 Zelpha Wells Piano Competition, Tuscaloosa, Ala.
Besides focusing on coursework and teaching as an associate instructor in the Jacobs School Music Theory Department, she is engaged in extracurricular activities such as accompanying for ballet classes, promoting the Graduate Theory Association in the role of publicity manager and volunteering as a student ambassador for the Jacobs School Admissions Office. She recently presented her preliminary research results on Russian opera studies in the lecture series "On Russia in Russian," sponsored by IU's Russian and East European Institute. As an advocate for integrating theory into practice, and vice versa, Abrahamyan continues her piano studies under the guidance of Jacobs Professor Luba Dubinsky.
"Knar has been great to teach," said Dubinsky. "She has this balance of sensitivity and sophistication that makes her playing individual and intelligent, but also sincere and moving. I am very proud of her achievement, even amid some concerns about her going to Russia." 
Eclectic in their interests, the Jacobs School Music Theory faculty are recognized nationally and internationally as leaders in their areas of research, which represent diverse fields from the traditional to the experimental. The department's faculty and students maintain a strong record of publications, conference presentations, performances and other accomplishments.
The Fulbright Program is the flagship international educational exchange program of the United States. Abrahamyan will join over 100,000 Fulbright U.S. Student Program alumni who have undertaken grants since the program began in 1948.