FOR IMMEDIATE RELEASE
April 30, 2015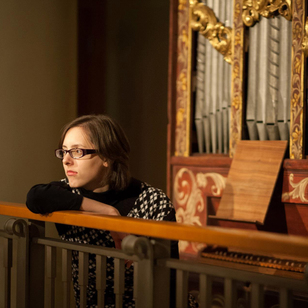 BLOOMINGTON, Ind. – Indiana University Jacobs School of Music student Kathryn (Katie) Minion has received a 2015-16 Fulbright U.S. Student Award. She is a Jacobs Scholar and senior organ performance major with a minor in French studying primarily with Janette Fishell, chair of the Jacobs Organ Department.
The Fulbright-Marillonet Fellowship is a special nine-month grant that is awarded to one artist each year who applies to study in France. It is sponsored by the Fulbright Program and the Marillonet Foundation.
"As the recipient of this year's Fulbright-Marillonet Fellowship, I am thrilled to be able to study music in Toulouse, France," said Minion. "The excellent education I have received from my professors at the Jacobs School of Music has prepared me to make the most of this opportunity."
French organ music in both the Baroque (late 17th to early 18th centuries) and Romantic (19th to early 20th centuries) periods was closely linked to certain instruments. Minion said she will study specific pieces from these two time periods on instruments built in the same respective eras in an effort to understand the connection between music, instrument and acoustics.
Minion will study with Michel Bouvard, professor of organ at the Conservatoire à Rayonnement Régional de Toulouse during the 2015-16 academic year, where her primary research project will be a study of Charles-Marie Widor's "Symphonie Romane, Op. 73" in conjunction with the organ at the Basilica of St. Sernin in Toulouse. Widor wrote this work specifically for the Basilica's magnificent 1888 Cavaillé-Coll organ. Bouvard is also the organist at the Basilica. In addition, Minion will study the organ music of Louis Couperin with Willem Jansen, professor of organ at the Conservatoire and a specialist in ancient music.
"We are all so proud of Katie, and I, in particular, am thrilled that she will have this amazing opportunity to absorb firsthand the French organ tradition in such an inspiring location," said Fishell. "She has consistently represented the Jacobs School, and her Jacobs Scholar award, with distinction so this is a wonderfully deserved crowning achievement to conclude her time at IU. She has been a fantastic student with whom to work, and I know that Professor Bouvard will enjoy working with her as much as I have."
Toulouse is the ideal location for this project because of the important historical instrument at St. Sernin and the large number of significant pipe organs in the area. The oldest instrument dates from 1612, and the newest was built in 2005. This almost 400-year time span of French organ-building makes Toulouse one of the best places in the world to study French organ music.
After her Fulbright year, Minion will write an article describing her research in France and submit it to The American Organist, the monthly magazine serving both the national and international organ community. She plans to continue her studies by entering a Master of Music degree program followed by earning a doctoral degree in organ performance before becoming a teacher.
Originally from the Chicago area, Minion began her musical studies on violin at age four and began playing organ during high school. She has won numerous awards and competitions, including first place in both the Arthur Poister Scholarship Competition in Organ Playing in 2012 and the Fox Valley chapter of the American Guild of Organists' Regional Competition for Young Organists in 2013. In summer 2013, she placed second in the final round of the guild's Region V young organists competition. Most recently, she was named an alternate in the 2014 Canadian International Organ Competition and competed as a finalist in the 2014 Fort Wayne National Organ Playing Competition.
In addition to being a Jacobs Scholar, Minion was named a Founders Scholar during each of her four years at the Jacobs School of Music. Her previous teachers include Jim Brown at the Music Institute of Chicago and Sarah Read Gehrenbeck during college. She is currently studying with Michael Gailit in Vienna, Austria, for one semester through the IES Abroad program.
Minion has concertized around the country in a variety of venues and was featured on Chicago classical radio station WFMT's "Introductions" program in October 2009. Recent performances have included recitals in New York City, Wisconsin, Indiana and Loyola University in Chicago as well as appearances in France, Germany and Austria. In her spare time, she can be found fencing or reading French literature.
The Fulbright Program is the flagship international educational exchange program of the United States. Minion will join over 100,000 Fulbright U.S. Student Program alumni who have undertaken grants since the program began in 1948.