WHAT: IU Vocal Jazz Ensembles Fall Concert—"A Tribute to The Manhattan Transfer"
WHEN: 8 p.m. Monday, Nov. 10, 2014
WHERE: Auer Hall, Simon Music Center, 200 S. Jordan Ave., Bloomington
TICKETS: Admission is free; no tickets required.
FOR IMMEDIATE RELEASE
Nov. 4, 2014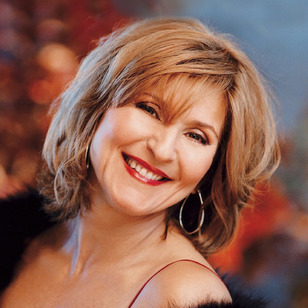 BLOOMINGTON, Ind. – Make no mistake about it, the Indiana University Jacobs School of Music's Auer Hall will start swinging at 8 p.m. on Monday, Nov. 10, as the IU Vocal Jazz Ensembles present "A Tribute to The Manhattan Transfer" with special guest artist Janis Siegel, founding member of this iconic jazz/pop vocal group.
In addition to teaching at Jacobs for two days, Siegel will also present a master class at 5 p.m. on Tuesday, Nov. 11, in Room 404 of the Music Addition (Round Building).
Both the concert and the master class are free and open to the public.
Over the past four decades, the voice of Siegel, a nine-time Grammy winner and a 17-time Grammy nominee, has been an undeniable force in The Manhattan Transfer's diverse musical catalog. Alongside her career as a founding member of this musical institution, Siegel has also sustained a solo career that has spawned more than a half dozen finely crafted solo albums and numerous collaborative projects, amassed a large international fan base and garnered consistently high critical praise.
The concert will include performances by Down Beat Award-winning IU Vocal Jazz Ensemble I (Duane Davis and Steve Zegree, directors) and IUnison (Ly Wilder, director), as well as a solo set by The Janis Siegel Trio—featuring guests Xavier Davis, piano, and Keith Hall, drums, and Jacobs faculty member Jeremy Allen, bass.
The audience can expect to be treated to some of The Manhattan Transfer's greatest hits, including "Operator," "The Boy From New York City" and "Birdland," performed by Jacobs School of Music students in collaboration with Siegel.
 "There is not another vocal group that has had a greater impact in the history and development of vocal jazz in the past 50 years than The Manhattan Transfer," said Professor Steve Zegree. "We are honored to be able to share the stage with Janis Siegel, who is an incredible solo artist. The fact that our students have the opportunity to perform and study with her, along with her giving a public master class, is a real bonus!"
A Grammy-winning, worldwide chart-topping super group, The Manhattan Transfer is widely renowned for broadening the musical landscape with its innovative, genre-defying sound for over 40 years.
Siegel's unmistakable voice has become one of the group's most recognizable trademarks. She sang lead on some of the Transfer's biggest hits, such as "Operator," "Chanson D'Amour," "Twilight Zone," "Birdland," "The Boy from New York City," "Spice of Life," "Ray's Rockhouse," "The Shaker Song" and "Mystery." She co-wrote and sang lead on the Grammy-winning "Sassy."
In addition, she gained a reputation as a vocal arranger by writing five of the charts for the group's acclaimed masterwork, "Vocalese," and seven charts for the group's Grammy-winning album, "Brasil." She won a Grammy herself in 1980 for her arrangement of "Birdland." In 1993, she and her Manhattan Transfer colleagues received honorary doctorates from the Berklee School of Music, and, in 1999, they were among the first class of inductees into the Vocal Group Hall of Fame.
Siegel, who lives in Manhattan, feels that some styles are timeless and universal, regardless of prevailing trends. "I think people will always respond to emotion and to great songs sung well," she says. "When you come down to it, people want to feel something."