FOR IMMEDIATE RELEASE
July 29, 2014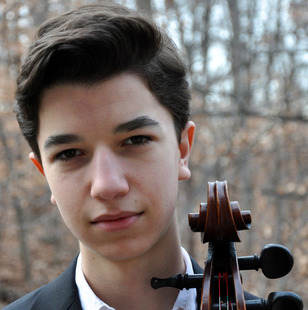 BLOOMINGTON, Ind. – Gabriel Lynch Martins, a student at the Indiana University Jacobs School of Music String Academy, received the silver medal in cello earlier this month at the 8th International Tchaikovsky Competition for Young Musicians, in Moscow.
The prestigious competition, hosted every few years by a different country, is open to musicians under age 17 in the areas of piano, violin and cello. This year, approximately 56 cellists, along with similar numbers of pianists and violinists, were invited to compete.
Martins, 16, began playing cello at age 5 at the IU String Academy, studying with Susan Moses. He is a member of the IU String Academy Virtuosi, a group of young string players under the direction of Mimi Zweig. With the Virtuosi, he has performed at Carnegie Zankel Hall, toured Argentina and Brazil, and performed with Gilles Apap, Augustin Hadelich and Mark Kaplan.
Martins was named first-prize winner at the 2013 International David Popper Cello Competition, in Varpalota, Hungary.
He has performed as soloist with ensembles including the Indianapolis Symphony Orchestra, New Russia State Symphony Orchestra, New World Youth Orchestra (Indianapolis) and Fukuda Cello Ensemble (Sao Paulo, Brazil), among others. He has participated as a principal cellist of the Indianapolis Symphony Side by Side Orchestra for two years.
In addition to his longtime mentor Moses, Martins has worked with artists such as Richard Aaron, Atar Arad, Joshua Bell, Paul Katz, Ralph Kirshbaum, Csaba Onczay and members of the Pacifica and Shanghai string quartets, to name a few.
Martins is very interested in contemporary music and frequently collaborates with students of the Jacobs Composition Department to premiere new works. He currently plays an unmarked 19th-century English cello with a François Nicolas Voirin bow.
His father, Michael Lynch, is a distinguished professor of biology at IU and an elected member of the National Academy of Sciences. His mother, Emilia Martins, is a professor of biology at IU.