FOR IMMEDIATE RELEASE
May 9, 2014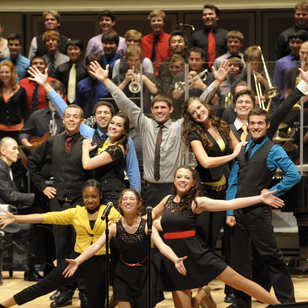 BLOOMINGTON, Ind. – The Indiana University Singing Hoosiers, directed by Steve Zegree, will once again act as IU's "Ambassadors of Song" when they tour Australia May 11-27.
The tour will include performances at The University of Queensland and The University of Adelaide Elder Conservatorium.
IU President Michael McRobbie, who hails from Australia, said, "It is with great pleasure and pride that I introduce to the people of Australia the Singing Hoosiers, from Indiana University's renowned Jacobs School of Music. And I am particularly honored to introduce them as I am a native of Australia, where I graduated from both the University of Queensland and Australian National University.
"A tour like this is a wonderful educational opportunity for these students to travel internationally and to represent Indiana University and the United States as ambassadors of song," McRobbie continued. "It is an honor to share with you the tremendous talents and enthusiasm of IU's Singing Hoosiers."
"The Singing Hoosiers are thrilled and honored to have the opportunity to represent IU musically, personally and culturally, on this international tour," said Zegree. "The tour will offer our students educational and performance opportunities that cannot be taught in the classroom."
One of the highlights of the trip will be a performance in conjunction with the Queensland Show Choir's 30th Anniversary Celebration. The Queensland Show Choir, based on and inspired by the Singing Hoosiers, was founded by IU alumnus Robert Clark. 
In addition, Zegree and assistant director Ly Wilder will be presenting several clinics and workshops on vocal jazz and show choir techniques for teachers and students.
The Singing Hoosiers have a long and storied tradition of excellence in the contemporary vocal arts, performing popular contemporary vocal music ranging from The Great American Songbook, jazz and Broadway to the hits of today.
The ensemble averages 85 student singers and instrumentalists from the IU Jacobs School of Music as well as students from throughout the university.