WHAT: "La Traviata" by Giuseppe Verdi
WHEN: 8 p.m. April 11, 12, 18 and 19
WHERE: Musical Arts Center, 101 N. Jordan Ave.
TICKETS: Purchase tickets at the Musical Arts Center box office from 11:30 a.m. to 5:30 p.m. Monday through Friday, by phone at 812-855-7433 or online at music.indiana.edu/opera. A discounted price is available for all students.
VIDEO STREAMING: April 11 and 12 only. Featuring live blogging by musicology students. 
FOR IMMEDIATE RELEASE
April 9, 2014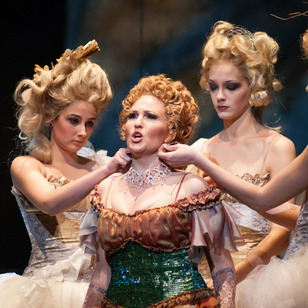 BLOOMINGTON, Ind. — Indiana University Opera Theater will reveal a cutting-edge new production of Giuseppe Verdi's "La Traviata" when the curtain rises at 8 p.m. Friday at Bloomington's Musical Arts Center.
Additional performances of IU Opera's 2013-14 season finale are at 8 p.m. on April 12, 18 and 19. The April 11 and 12 performances will be live-streamed via the IUMusic Live! site.
The new production marks the first time conductor Joseph Rescigno and set designer Cameron Anderson have worked with IU Opera Theater, while stage director Jeffrey Buchman and costume designer Linda Pisano make encore appearances.
"This 'La Traviata' was conceived with a concerted focus on telling Violetta's personal story of love, sacrifice and pursuit of redemption through a noble act," said Buchman. "Her story lives in a hypocritical, male-dominated world that confines courtesans to the "demi-monde"; a world between worlds that sees them worshipped for their beauty, wit and seductive skills, while denying them a complete existence and most importantly, true love. Kept by wealthy men, lavished with luxurious gifts, cash, homes and anything else they desire, the almost imperceptible walls of the "demi-monde" serve like a shadow box to put courtesans on display as exquisite objects, while at the same time imprisoning them within a world few can escape."
"Our scenic world is dominated by glass, to represent the fragile and ephemeral nature of this world," Anderson explained. "We want to show the hypocrisy of a society that expects upper-class men to have mistresses—women who were worshiped for their physical beauty and powers of seduction, and then abandoned and condemned for their choices once their beauty faded. We have chosen the butterfly as a central metaphor for these ideas—a creature which we callously pluck from nature and put inside a shadow box or pin to the wall for our viewing pleasure."
One of the world's most popular operas, with one of the most famous scores, "La Traviata" ("The Fallen Woman") tells the story of the courtesan Violetta and her passionate, then tragic affair with nobleman Alfredo in 18th-century Paris. Verdi's Violetta is based on the real-life courtesan Marie Duplessis, who died of tuberculosis at the age of 23 in 1847.
"This is my first time at the Jacobs School," said Rescigno. "While I expected a first-rate orchestral experience, I am thrilled with the high quality of the singing. When combined with the superb production facilities, I feel that this 'La Traviata' can equal, or even surpass, a majority of this country's professional opera presentations."
The streaming of IU Opera Theater performances is made possible by donors who contribute to the Jacobs School of Music's Dean's Fund.