WHAT: "Hammer and Nail: Contemporary Dance/Student Composer Collaboration Concert"
WHEN: April 23 and 24; Program A 6:30 p.m., Program B 8:30 p.m.
WHERE:  Buskirk-Chumley Theater, Bloomington
TICKETS: Free; non-perishable food items will be accepted in lieu of an admission fee.
FOR IMMEDIATE RELEASE
April 14, 2014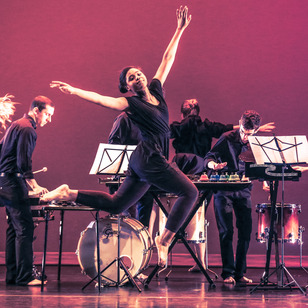 BLOOMINGTON, Ind. – Students from the Indiana University Jacobs School of Music and the IU School of Theatre, Drama and Contemporary Dance will perform two shows of original choreography and music on April 23 and 24 at the Buskirk-Chumley Theater in downtown Bloomington in the annual "Hammer and Nail" concert.
Each evening, Program A will begin at 6:30 p.m., and Program B will begin at 8:30 p.m. Each program is approximately one hour long without an intermission and supported financially by the IU Student Association.
In lieu of an admission fee, non-perishable food donations will be accepted in the Buskirk-Chumley lobby to benefit the Hoosier Hills Community Food Bank.
Works featured on the concerts are the result of months of collaboration between Jacobs School composers and School of Theatre, Drama and Contemporary Dance choreographers under the direction of faculty member Selene Carter. This year's performances feature a wide array of instrumentations and multimedia, including film, fixed media electronics and spatialized performers.
According to Jeffrey Hass, Jacobs faculty composer advising on this project, "Hammer and Nail" is "one of the great successes of intercampus collaboration, which I expect will continue for many years to come. It is an experience which takes the students out of their own comfort zones and leads to an understanding of the process of artistic sharing, both in formulating and negotiating creative ideas that they would not necessarily have in their own programs alone."
Composers and choreographers are paired after an evening of "speed dating" in which they share their ideas and approaches to creation. Texu Kim, Will Rowe and Phillip Sink of the Student Composer Association, along with dance and composition faculty, help pair students expressing similar artistic visions.
This year, composer Louis Goldford and choreographer Mindi Kirsch collaborated on a piece titled "Adverse Moments." According to Goldford, the original inspiration came from Kirsch, who sought to use the piece as a way to navigate a family member's personal struggle. Based on this idea, Goldford developed sounds that honor both the pain and joy of overcoming that challenge.
"Hammer and Nail" started in 1999 when composers and guitarists collaborated to create new works that explore various techniques. Composers Forest Pierce and Justin Merritt, along with guitarists Nick Ciraldo and Espen Jensen (now Jacobs School Admissions director) helped create works that are still in the contemporary guitar repertoire today. Collaborations with viola, organ, harp and modern dance followed.
Contemporary Dance program director Elizabeth Shea and Hass enlisted the help of Ryan Burress and the Student Composer Association and the Contemporary Dance choreography class. In recent years, the concerts have grown to include 15-20 new five-minute works for dance and chamber ensemble.