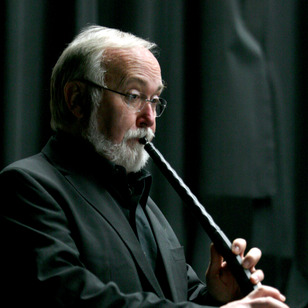 FOR IMMEDIATE RELEASE
Feb. 17, 2014
BLOOMINGTON, Ind. – The Indiana University Jacobs School of Music welcomes renowned cornettist Bruce Dickey, in residence Feb. 17-20 as part of the "Five Friends Master Class Series."
Dickey will present a lecture and demonstration at 7 p.m. on Monday, Feb. 17, in Ford-Crawford Hall. Also in Ford-Crawford Hall, he will present master classes on Tuesday, Feb. 18, at 8:30 p.m.; Wednesday, Feb. 19, at 5 p.m.; and Thursday, Feb. 20, at 8:30 p.m.
All events are free and open to the public.
The series honoring the lives of five talented Jacobs School students – Chris Carducci, Garth Eppley, Georgina Joshi, Zachary Novak and Robert Samels – was established last year with a gift of $1 million from the Georgina Joshi Foundation Inc.
Dickey's events are in honor of Joshi.
This annual series of lectures, master classes and residencies by a number of the world's leading musicians and teachers focuses on areas of interest most relevant to the lives of the five friends – voice performance, choral conducting, early music, music theory, composition and opera.
Dickey is a performer and researcher who has devoted himself since 1975 to the revival of the cornetto. He has taught cornetto and 17th-century performance practice at the Schola Cantorum Basiliensis in Basel (Switzerland) since 1976 and is founder and co-director of the ensemble Concerto Palatino.
As a performer, he has made many groundbreaking recordings both as a soloist and with his ensemble, and has collaborated with most of the leading figures in the field of early music.
His many students, over more than 30 years of teaching at the Schola Cantorum Basiliensis, have helped to consolidate and elevate the status of this once-forgotten instrument.
For his achievements, the Historic Brass Society awarded him in 2000 the Christopher Monk Award for "his monumental work in cornetto performance, historical performance practice and musicological scholarship."
In 2007, he was honored by British conductor and musicologist Andrew Parrott with a "Taverner Award" as one of 14 musicians whose "significant contributions to musical understanding have been motivated by neither commerce nor ego."
Dickey has published numerous articles about the cornetto and performance practice. Together with Michael Collver, he has published a catalog of the surviving cornetto repertoire, and, with trumpeter Edward Tarr, a book on historical wind articulation.
The Georgina Joshi Foundation was established in 2007 as the vision of Georgina Joshi's mother, Louise Addicott-Joshi, to provide educational and career development opportunities for young musicians and to encourage and support public performance of music.
The gift to the school establishes a permanent way for the world to learn about each of the five friends as well as their musical talents and passions, and to encourage the development of similar talents and passions in current and future music students.
The establishment of this endowment by the families is administered by the IU Foundation.