FOR IMMEDIATE RELEASE
Jan. 30, 2014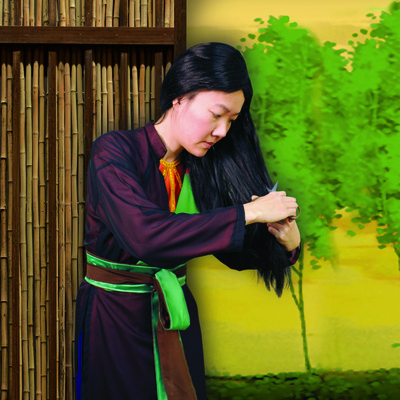 BLOOMINGTON, Ind. – "The Tale of Lady Thị Kính," an opera composed by Indiana University Jacobs School of Music faculty member P.Q. Phan, will receive its world premiere by IU Opera Theater at Bloomington's Musical Arts Center Feb. 7.  Phan is also the opera's librettist.
Widely considered to be the first opera set in the Vietnamese culture, the work is based on a folktale that captivated Phan as a child. The story itself dates back at least a millennium, appearing in many different Buddhist traditions and is frequently re-told through traditional Vietnamese theater known as Hát Chèo.
Falsely accused of attempting to kill her husband, Thị Kính disguises herself as a man and joins a Buddhist temple. There, she is falsely blamed for impregnating a young girl and is forced to leave the temple. As she goes, she discovers the baby abandoned at the gate, takes pity on the child and becomes a beggar to support it. She then dies, but due to her spirit of forgiveness and self-sacrifice, she enters the Pure Land and becomes a Buddha.
The premiere production of "The Tale of Lady Thị Kính" is being brought to life by IU Opera Theater's artistic team, including conductor David Effron, stage director Vincent Liotta, costume designer Linda Pisano and set designer Erhard Rom.
Liotta said the team rose to Phan's challenge to convey the tale's traditional storyline as one also able to fit Western cultural perceptions.
"Beginning in 2009, I have worked closely with Phan to help improve my perceptions of what the piece means in its original environment, including many hours of immersion in Vietnamese theater as well as traveling to Hanoi to see and talk with actors of the Hát Chèo tradition," he said. "The result is what I and other members of the creative team see as the telling of the story not as a piece of ethnographic reproduction, but as one that conveys the sense of what we have come to associate with emblems of Vietnam while also telling the story in an entirely Western operatic style. We've worked to make the production both exotic and recognizable to an American audience, yet also recognizable for anyone familiar with the original story and its theatrical traditions."
Born in Vietnam, Phan taught himself to play piano as a young man. He began formal music training after immigrating to the United States in 1982. He has received commissions from the Kronos Quartet, the Cleveland Chamber Symphony and the New York Youth Symphony, among others, and is the recipient of the Rome Prize. This is the second opera he has composed.
"On different occasions, both lead singers in the role of Thị Kính told me they had to refrain themselves from being overly emotional in order for them to complete singing the aria 'Taking You to the Market Place.' And I could not help but getting emotional myself," Phan said of seeing his work come to life on stage. "Thanks to the interpretation and creation of our stage director, music director and set designer, among others, seeing the premiere of 'The Tale of Lady Thị Kính' will be one of the most fascinating experiences you will ever have."
"The Tale of Lady Thị Kính" premieres Feb. 7 at the Musical Arts Center on the IU Bloomington campus, with additional showings Feb. 8, 14 and 15. Details about two live-streamed performances, as well as ticket prices, are available online.
Pre-performance panel discussions will be held in the MAC Lobby at 7 p.m. prior to the Feb. 7, 8 and 14 performances. Following the Feb. 15 performance, Phan and Liotta will host a Q&A session in the MAC Lobby that is open to ticketholders from any of the four performances. Attendees will be required to show a ticket to gain entrance.