FOR IMMEDIATE RELEASE
BLOOMINGTON, Ind. -- Indiana University President Michael A. McRobbie presented the University Medal to Distinguished Professor Menahem Pressler at a Dec. 13 gala concert held in honor of the renowned pianist's 90th birthday.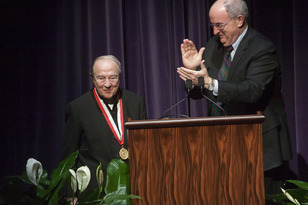 "As an internationally celebrated soloist, chamber musician and teacher, Professor Pressler is an Indiana University treasure," President McRobbie said. "He is the senior member of the faculty of the IU Jacobs School of Music, and one of the great artists whose presence on our faculty helped to establish the school's stellar reputation. The university is privileged to honor him with the University Medal, given in gratitude both for his enormous contributions to the musical arts and for his service to the university over nearly six decades."
Co-founder and the only pianist of the Beaux Arts Trio for more than 50 years, Pressler has established himself among the world's most distinguished and honored musicians, with a career that spans almost seven decades. He continues to perform throughout the world both as a piano soloist and collaborating chamber musician while maintaining his teaching career.
Born in Magdeburg, Germany, in 1923, Pressler fled Nazi Germany in 1939 and immigrated to Israel. His career was launched after he was awarded first prize at the Debussy International Piano Competition in San Francisco in 1946, followed by his American debut with the Philadelphia Orchestra. Since then, Pressler's tours have included performances with the orchestras of New York, Chicago, Cleveland, Pittsburgh, Dallas, San Francisco, London, Paris, Brussels, Oslo, Helsinki and many others.
He joined the piano faculty at the Indiana University Jacobs School of Music in 1955, and he currently holds the rank of Distinguished Professor of Music as the Charles Webb Chair.
Among myriad honors and awards, Pressler has received six Grammy nominations, a lifetime achievement award from Gramophone magazine and election into the American Academy of Arts and Sciences. In 2005, he received two additional awards of international merit: the German President's Deutsche Bundesverdienstkreuz First Class, Germany's highest honor, and France's highest cultural honor, the Commandeur de l'Ordre des Arts et des Lettres.
In 2007, he was appointed as an honorary fellow of the Jerusalem Academy of Music and Dance, and in 2012, he received the Yehudi Menuhin Prize for the Integration of the Arts and Education from Queen Sofia of Spain. In 2013, he was the first recipient of an award for extraordinary service to chamber music from the Chamber Music Society of Lincoln Center.
Pressler recently received a letter from President Barack Obama and first lady Michelle Obama in honor of his 90th birthday, Dec. 16. The letter read in part, "The arts appeal to our common humanity, enrich our lives and inspire us to strive for a more perfect union. As you celebrate with family and friends, we hope you reflect with joy on the memories you have made and take pride in all you have accomplished."
In addition, nationally known classical music show "Performance Today" honored Pressler during its broadcast, heard by 1.2 million listeners on 287 radio stations across the country. It is scheduled to air at 1 p.m. today on WFIU HD1 and at 5 p.m. today on WFIU HD2.
The University Medal, created in 1982 by then IU President John W. Ryan, is the highest award bestowed by Indiana University. It honors individuals for singular or noteworthy contributions, including service to the university and achievement in arts, letters, science and law, and is the only IU medal that requires approval from the Board of Trustees. The medallion is made of 18-karat gold and bears on its face the Indiana University seal.