FOR IMMEDIATE RELEASE
Dec. 2, 2013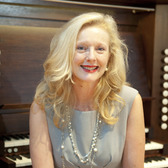 BLOOMINGTON, Ind. – Janette Fishell, chair of the Organ Department at the Indiana University Jacobs School of Music, will present the final concert in her three-and-a-half-year performance cycle, "Seasons of Sebastian," at 7:30 p.m. on Monday, Dec. 9, in Alumni Hall.
The cycle, presenting all the solo organ works of J. S. Bach, began in Oct. 2010 and includes a total of 21 free, open-to-the-public Bach organ performances at various locations on the IU campus and churches in the Bloomington community.
"The 21st – and final – recital in the 'Seasons of Sebastian' cycle is titled 'My End is My Beginning,' and, when I think about it, that title is very prescient since I am both looking forward to the completion of this project and realize that it really is just a portal leading to further explorations of this great body of repertoire," said Fishell. " It seems a lifetime ago when I decided to play the complete organ works of J. S. Bach and my initial struggle to decide how to organize such a huge series of concerts! I didn't want it to be just a series of recitals, but rather a journey through the seasons of Bach's life and work."
One thing that was clear to Fishell from the start, she explained, was that she wanted the first and last recitals to act as "bookends" that would tie the cycle together, so the final recital is built along the same architectural lines as the first.
Taking a page (literally) from Shakespeare, the final concert is built around the theme of the "Seasons of Man" or, in this case, the "Seasons of Sebastian." Music is played to represent Bach the Infant, the Schoolboy, the Lover, the Soldier and then, finally, the Judge.
"What is more amazing is that I could never have predicted that the final recital would be on our wonderful new organ in Alumni Hall," Fishell said. "Which lends even more weight to the words 'My End is My Beginning,' as we are also beginning a new concert life in that renovated space on the magnificent Webb-Ehrlich Great Organ, C. B. Fisk, Opus 91."