FOR IMMEDIATE RELEASE
Nov. 25, 2013
BLOOMINGTON, Ind. – Mexican guitarist Misael Barraza Diaz is the winner of the Open Division of the fourth annual Indiana International Guitar Festival and Competition, held recently at the Indiana University Jacobs School of Music.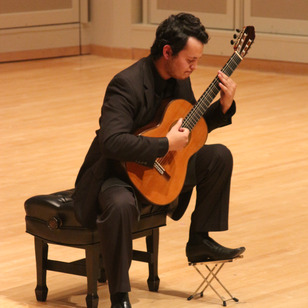 "The experience at the festival was great," said Diaz, who received the competition's top prize of $1,700. "Bloomington is a very special place, and I think having a guitar festival there was a great idea. Lots of great guitarists and artists were there, and I think everybody got to meet new people and make new friends throughout it."
The competition and festival routinely attracts top-tier competitors from all over the world and features concerts and master classes by well-established artists.
"This year, the festival and competition were extremely successful due to a high level of competition in all categories, the increasing number of participants from foreign countries and distinguished guests offering recitals and master classes," said Ernesto Bitetti, founder and chair of the Jacobs Guitar Department.
The 2013 Open Division featured 16 competitors from a variety of countries, including the United States, Canada, Mexico, China, South Korea, Vietnam and Bulgaria. The jury consisted of Jacobs School of Music faculty members Bittetti, Luke Gillespie, Petar Jankovic, Elzbieta Szmyt, Atanas Tzvetkov and Elisabeth Wright as well as guest artist Matt Palmer.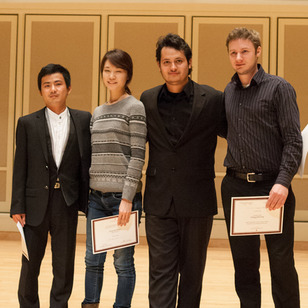 The winners are:
Open Division (ages 19-35)
First Prize: Misael Barraza Diaz (Mexico: $1,700)
Second Prize: Jeremy Collins (United States: $700)
Third Prize: Bin Hu (China: $500)
Fourth Prize: Ye Eun Lee (South Korea: $300)
Senior Youth Division (ages 14-18)
First Prize: Augustus Woodrow-Tomizuka ($500)
Second Prize: Erica Cha ($300)
Third Prize: Veronica Eres ($200)
Fourth Prize: Clara McLain ($100)
Junior Youth Division (ages 14 and under)
(Non-monetary prize package for all participants)
First Prize: Kairey Wang
Second Prize: Jacob Tan
Third Prize: Yian Wang
Fourth Prize: Constantin Chekardzhikov 
Several of the Youth Division competitors collaborated with students of IU's Pre-College Guitar Program to form the Guitar Festival Youth Ensemble. Directed by Tzvetkov, head of the Jacobs Pre-College Guitar Program, the ensemble performed works by Vito Nicola Paradiso and Gerardo Matos Rodríguez prior to a concert given by guest Matt Palmer.
The two-day festival was orchestrated by artistic director Bitetti and executive director Jankovic, and was made possible by the generous support of Aranjuez Strings, Bloomington Classical Guitar Society, Indiana University Office of International Affairs and Reverie Classical Guitars.