FOR IMMEDIATE RELEASE
Nov. 19, 2013
BLOOMINGTON, Ind. – The Musicology Department at the Indiana University Jacobs School of Music recently received a collection of documents and microfilms belonging to the late Edward R. Lerner, whose scholarship focused on the music of the Renaissance and Middle Ages, particularly the works of Alexander Agricola and Heinrich Isaac.
Halina Goldberg, Jacobs associate professor of musicology, remembers Lerner as a mentor and friend, "His classes were among those that convinced me I wanted to follow the path of musicology. He also gave me some of my first opportunities as a teacher, and he supported me unconditionally through the dissertation process. His selflessness, generosity and kindness were boundless. I think of him often, always hoping that I can pass some of the generosity and kindness that I learned from him to my own students!"
Lerner's major contribution to Renaissance scholarship was the voluminous edition of the works of Agricola and Isaac.
Giovanni Zanovello, assistant professor of musicology who is also working on the music of Isaac, said, "Even younger scholars like me, who never had the pleasure of meeting Edward Lerner, consider themselves his students because his work has been so seminal in making Isaac's music available."
Lerner's Nachlass came to the Jacobs School of Music through the generosity of George Lerner, Edward's son.
"I can't imagine a better, more appropriate tribute to Edward Lerner's life work than to offer the collection to the music historians of Indiana University, present and future," said George Lerner. "It was a powerful, inspiring experience to meet the faculty, students and librarians who make up that community. Speaking for my family, we are thrilled by the idea of this Nachlass providing ongoing exploration of Isaac and other Renaissance composers."
Since Zanovello is the general editor of the complete edition of Heinrich Isaac's works, the Jacobs School was a logical choice to house the collection.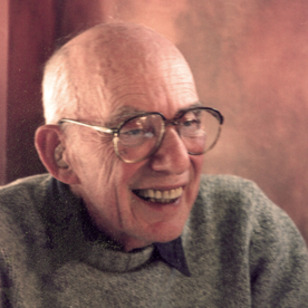 At 90, Lerner was still working on the project, but since Isaac was not only among the most celebrated composers of the Renaissance, but also among the most prolific, the edition was left incomplete.
Under the leadership of Zanovello, a new, collaborative Isaac project will build on Lerner's legacy, taking the edition into the 21st century.
Lerner's collection of microfilms and documents is to become a digital repository of Isaac sources, which will be used by teams of scholars working on the volumes of the edition at various locations around the world. It will also provide a rich resource for faculty and student scholars at IU.
Lerner (1920-2013) received his Ph.D. in musicology at Yale University under Leo Schrade. After attending Columbia University from 1958 to 1962, he joined the faculty at Queens College, CUNY, where he remained until his retirement in 1992.
A dedicated teacher, Lerner's annotated anthology "Study Scores of Musical Styles" has helped numerous generations of undergraduate students of music history to become acquainted with musical styles from plainchant to Bach.