FOR IMMEDIATE RELEASE
BLOOMINGTON, Ind. -- Indiana University officials awarded David Henry Jacobs an honorary doctoral degree during an Oct. 31 ceremony dedicating the Jacobs School of Music's new East Studio Building.
Jacobs attended the Jacobs School of Music in the early 1970s, a school that now bears his family's name. He was the driving force behind the $40.6 million gift his mother, Barbara, gave the school in 2005 in honor of his father, David H. Jacobs -- which, at the time, was the largest single gift for a school of music at a public university and the largest single gift ever given by individuals to IU.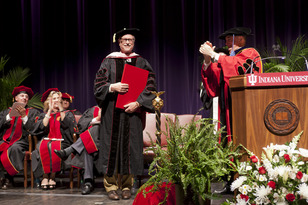 "David Jacobs' unique connection to IU and the school that now bears his family's name spans 40 years to when David first came to the university as a music student," IU President Michael A. McRobbie said. "Over that period, David and his family have contributed to the growth and success of IU, and especially the Jacobs School of Music, in ways that can be matched by few others. In addition to the extraordinary naming gift for the music school, which he facilitated, David's generosity and counsel have made a positive difference for many of IU's best-known schools and institutes.
"The contributions of David Jacobs to IU are a testimony to the transformative power of philanthropy, and we are honored to be able to recognize his lifetime of friendship and deep commitment to the university by awarding him this honorary degree."
Jacobs is president of David Jacobs Fine Art, which matches privately accumulated art collections with public institutions, and owner of Stilllife Construction, which reuses and redevelops properties with historic and architectural merit.
"David Jacobs exemplifies, in every way, by word and by deed, the attributes of a recipient of an honorary doctorate from Indiana University," Jacobs School of Music Dean Gwyn Richards said. "He is not simply a friend, patron, advocate or advisor of this great university, but an active partner -- participating with us each day in moving us toward the aspirations we hold."
Over the years, Jacobs has continued his family's longstanding support of IU. He has been a member of the IU Foundation's board of directors since 2006 and is a founding member of the Women's Philanthropy Council.
He supports a wide array of programs across the university, including the IU Lilly Family School of Philanthropy, the Maurer School of Law and the Kinsey Institute. He established a $100,000 matching program for the Society of the Friends of Music scholarship that bears the name of Kenda Webb, the late wife of Jacobs School of Music Dean Emeritus Charles Webb. Jacobs developed a close friendship with the couple while a student at IU.
In 2010, Jacobs gave the Maurer School of Law a $1.5 million gift to establish the John E. Schiller Chair in Legal Ethics. In 2011, he received the Distinguished Alumni Service Award, the university's highest award given to an alumna or alumnus.