FOR IMMEDIATE RELEASE
BLOOMINGTON, Ind. -- Indiana University President Michael A. McRobbie presented the President's Medal for Excellence to Jacobs School of Music Distinguished Professor Violette Verdy over the weekend.
The medal was awarded to Verdy just before the start of IU Ballet Theater's fall ballet, "Classical Europe: Celebrating Violette," on Oct. 5. She choreographed one of the three pieces performed during the ballet, set to music by Brahms.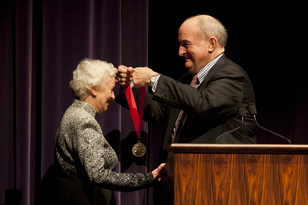 "I am totally surprised and overwhelmed, never expecting something of this importance," Verdy said. "I would like to think that it is not just for me, but for everyone involved in our department -- the chair, the teachers, the pianists and all our beautiful and talented young students."
The highest honor an IU president can bestow, the President's Medal for Excellence recognizes, among other criteria, distinction in public service, service to IU, and extraordinary merit and achievement in the arts, humanities, sciences, education and industry. The medal itself is a reproduction in silver of the symbolic jewel of office worn by IU's president at ceremonial occasions.
"Violette is one of the greatest ballerinas from an era of great dancers and choreographers, and she is an Indiana University treasure," McRobbie said. "Her remarkable achievements as a dancer and choreographer have garnered her international acclaim and several of the highest honors in her field, and she is equally renowned for her dedication to training future generations of dancers, including many who have launched successful careers at the IU Jacobs School of Music. We are extremely pleased to honor Violette for her vital contributions to the arts as one of the premier ballet dancers of the 20th century and in recognition for all that she has done for IU and for dance education." 
Born in Pont-l'Abbe, France, Verdy began her dancing career in 1945 as a soloist with Roland Petit's Les Ballets des Champs Elysées, later called Les Ballets de Paris. She toured the United States for the first time in 1953 and, five years later, was invited by Lincoln Kirstein and George Balanchine to join the New York City Ballet as principal dancer, a position she held for 18 years until her retirement from the stage in 1976.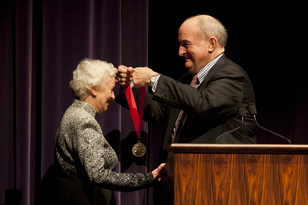 While at the New York City Ballet, she danced more than 25 principal roles, and Balanchine created many roles especially for her. She also appeared as a principal dancer with the American Ballet Theatre and the London Festival Ballet, as well as a guest principal dancer with many of the world's leading dance companies.
After retiring from the stage, Verdy began a career as an administrator and teacher. In 1977, she was the first woman to be appointed artistic director of the Paris Opera Ballet. She held this position until 1980, when she was invited to be co-artistic director of the Boston Ballet, where she also served as director from 1983 to 1984. In 1984, she began teaching with the New York City Ballet. She currently serves as artistic advisor to the Rock School of Ballet, Philadelphia; and as principal guest teacher to the School of American Ballet, New York City.
Verdy holds three honorary doctorates and has received numerous awards, including the Chevalier de l'Ordre National de la Légion d'honneur and the Chevalier de l'Ordre des Arts et Lettres. She danced at the White House, starred in the 1955 film "The Glass Slipper," among other films and television shows, and was the subject of a 1978 biography and two documentaries about her life. She has choreographed for national and international ballet companies and is the author of two children's books. In 2003, she received the Artistic Achievement Award of the School of American Ballet in New York City.
Appointed to the IU faculty in 1996, she was named a Distinguished Professor in 2005.
The Jacobs School of Music received an endowment in 2010 to support the first faculty chair in classical ballet in the nation and named Verdy as the inaugural recipient of the Kathy Ziliak Anderson Chair in Ballet.