FOR IMMEDIATE RELEASE
BLOOMINGTON, Ind. -- The Indiana University Jacobs School of Music welcomes Jocelyn Neal, professor of music and adjunct professor of American studies at the University of North Carolina at Chapel Hill, as the first guest in this year's "Five Friends Master Class Series."
She will present a public lecture, "More Than Just a Country Song: Socioeconomic Lessons with a Twang," at 4 p.m. on Monday, Sept. 30, in Ford-Crawford Hall, and a Music Theory colloquium, "Who Owns That Song? Copyright Law and the Emergence of the Popular Music Recording Industry," at 3:30 p.m. on Wednesday, Oct. 2, in Room 267 of the Simon Music Center.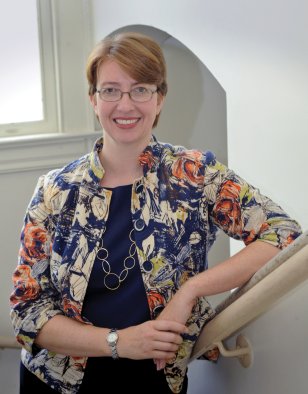 The series honoring the lives of five talented Jacobs School students -- Chris Carducci, Garth Eppley, Georgina Joshi, Zachary Novak and Robert Samels – was established last year with a gift of $1 million from the Georgina Joshi Foundation Inc.
Neal's events are in honor of Samels as part of the Music Theory Department's Robert Samels Visiting Scholar Program within the series.
"The offering of the Five Friends Master Classes Series for Jacobs School of Music Students makes me so happy," said Clayton Samels, father of Robert Samels. "I know that Robert would be happy, too. What a great way to honor these friends. What a wonderful opportunity for Jacobs School of Music students."
This annual series of lectures, master classes and residencies by a number of the world's leading musicians and teachers focuses on areas of interest most relevant to the lives of the five friends -- voice performance, choral conducting, early music, music theory, composition and opera.
Neal's research addresses American popular music, country music, dance, songwriting practices, and copyright. She is the author of "The Songs of Jimmie Rodgers: A Legacy in Country Music" and "Country Music: A Cultural and Stylistic History," and coauthor of the third revised edition of "Country Music U.S.A." She is coeditor of the interdisciplinary journal "Southern Cultures."
The Georgina Joshi Foundation was established in 2007 as the vision of Georgina Joshi's mother, Louise Addicott-Joshi, to provide educational and career development opportunities for young musicians and to encourage and support public performance of music.
The gift to the school establishes a permanent way for the world to learn about each of the five friends, their musical talents and passions, and to encourage the development of similar talents and passions in current and future music students.
The establishment of this endowment by the families is administered by the IU Foundation.