Gladys Gingold Memorial Scholarship Fund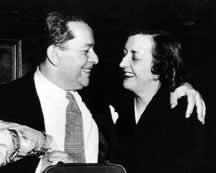 Josef Gingold established this scholarship in 1978 to honor the memory of his wife, Gladys Anderson Gingold. Appropriately, the Gingolds first met in an orchestra pit in 1935. Professor Gingold had just won one of the violin parts in a highly successful New York musical, The Cat and the Fiddle, written by Jerome Kern. The score was written for a small chamber orchestra, with parts for only three violins. Of the 250 violinists who auditioned for the remaining two parts, Gladys Anderson was chosen by Fred Fradkin, former concertmaster of the Boston Symphony Orchestra.
Although Mrs. Gingold gave up her professional career after her marriage, she remained devoted to the arts. She was a guiding force behind her husband's phenomenal career, giving him encouragement and urging him to audition for Toscanini and the famed NBC Orchestra. "She was such an inspiration to me," Professor Gingold said of his wife. "After we were married, however difficult it was, she always made sure I didn't neglect my violin. She made me practice and always said better times would come along, and that I should be ready when that happened. In the meantime, I should keep on trying. And she was right." Their son, George, was also instrumental in establishing this fitting tribute.
The Gladys Gingold Memorial Scholarship Fund provides scholarships to violin students at the Indiana University Jacobs School of Music.