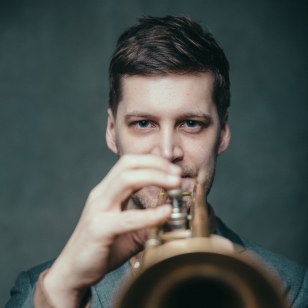 View full resolution
Phone:

812-855-8338

Email:

raymond@iu.edu
Department:

Jazz Studies
East Studio Building, JS322

Biography
John Raymond is associate professor of music in jazz studies–trumpet at the Indiana University Jacobs School of Music.
Recently voted a Rising Star Trumpeter in DownBeat magazine's Critics Poll, Raymond has been making a name for himself as one of the most promising up-and-coming jazz musicians in the world. Originally from Minneapolis, Minnesota, he has performed with some of the most well respected names in jazz, including Billy Hart, Orrin Evans, Kurt Rosenwinkel, Ethan Iverson, Gilad Hekselman, Linda Oh, among others. Raymond has released five albums since 2012, all of which have garnered critical acclaim from The New York Times, DownBeat magazine, JazzTimes, and others.
He has released three of those albums with his band, Real Feels, a flugelhorn/guitar/drums trio that performs both indie-rock and folk-influenced original compositions as well as fresh takes on familiar songs by artists such as Bob Dylan, Paul Simon, Thom Yorke, Bon Iver, and others. Their debut album received a four-and-a-half star DownBeat review and was named one of the Best Jazz Albums of 2016 by Stereogum. His most recent album, Joy Ride, will be released in February 2018 on Sunnyside Records.
Raymond has also established himself as a sought-after guest soloist and educator at high schools and universities around the world. He has also presented at the Jazz Education Network national conference, and his two-part article "Developing the Entrepreneurial Mind: Teaching Students How to Bloom Where They're Planted" was recently published by JAZZed magazine.
His frequent critical acclaim includes DownBeat commenting, "Electrifyingly new and strangely familiar at the same time. With his mix of modern sounds and old-fashioned feeling, Raymond is steering jazz in the right direction."