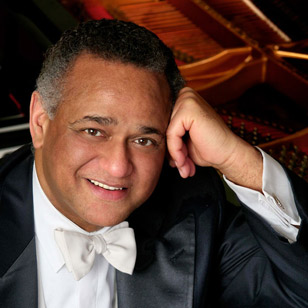 View full resolution
Phone:

812-855-5105

Email:

andwatts@indiana.edu
Department:

Piano
Merrill Hall, MU100

Biography
André Watts is distinguished professor of piano and the Jack I. and Dora B. Hamlin Endowed Chair in Music at the Indiana University Jacobs School of Music.
One of the world's most celebrated pianists, he joined the Jacobs School of Music faculty in 2004. He continues to give numerous recitals and performs with the world's major orchestras and conductors, while making regular visits to major summer music festivals, including Ravinia, Tanglewood, Saratoga, Mann Music Center, Mostly Mozart, and the Hollywood Bowl. Watts entered the music scene in 1963, at the age of 16, when Leonard Bernstein chose him to make his debut with the New York Philharmonic in one of its Young People's Concerts, which was broadcast nationwide on CBS. Two weeks later, Bernstein asked him to substitute at the last minute for an ailing Glenn Gould to perform music by Franz Liszt with the Philharmonic, thus launching Watts's career in storybook fashion.
Watts has made frequent television appearances, performing with the New York Philharmonic, Boston Symphony, Philadelphia Orchestra, Mostly Mozart Festival Orchestra, and Chamber Music Society of Lincoln Center. His 1976 New York recital, which aired on Live from Lincoln Center, was the first full-length recital broadcast in the history of television, and his performance at the thirty-eighth Casals Festival in Puerto Rico was nominated for an Emmy Award for Outstanding Individual Achievement in Cultural Programming.
A much-honored artist, Watts received the 1988 Avery Fisher Prize, one of the top individual honors for an American classical musician. At age 26, he was the youngest person ever to receive an honorary doctorate from Yale University, and he has received numerous such honors from many of the nation's most respected conservatories. In 1984, the Peabody Conservatory of Music at Johns Hopkins University honored him with its Distinguished Alumni Award.
As part of his extensive discography, he is included in the Great Pianists of the 20th Century series for Philips.
Recent and international engagements include concerto and recital appearances in Japan, Hong Kong, Germany, and Spain.