Elsie Irwin Sweeney Memorial Scholarship Fund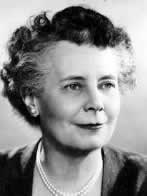 "We would reaffirm her consistent encouragement of youthful talent...nowhere more loyally and spiritedly than at Indiana University." So went the tribute as Miss Elsie Irwin Sweeney was presented an honorary doctorate degree in Music on Founders Day, 1967. She devoted much of her life to organizations and activities which supported the arts, and her dedication and commitment helped to advance the careers of hundreds of young performers. Miss Sweeney and the progress of music at IU are inextricably entwined. It was she who suggested to former School of Music Dean Wilfred C. Bain that the school begin its annual presentations of Wagner's epic opera Parsifal, which consequently placed the Indiana University Opera Theater on the world musical map. She aided in the negotiations which furthered the state government's approval for the building of the Musical Arts Center, and her gift to the university's 150th Birthday Fund ensured the facility's completion.
The Elsie I. Sweeney Memorial Scholarship is awarded to a mature student preparing for a career as a performing artist in some area of music.