Namita Pal Commemorative Award Fund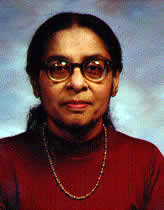 The Namita Pal Commemorative Award Fund was established in 1990 by Namita Pal's husband, Dr. Bimal Pal, and her son, Tridib K. Pal. Born in 1932 in Calcutta, India, Mrs. Pal received her Bachelor of Arts degree from Calcutta University. She married in 1950 and had two children, Tridib and Bhaswati. The Pals immigrated to the United States in 1958. Working in elementary schools, Mrs. Pal was an efficient and effective teacher's aide. An exemplary model for young children, her pleasant personality and warm smile won the trust and friendship of her many colleagues. Her son, Tridib Pal, earned his bachelor's and master's degrees in saxophone from Indiana University School of Music, graduating from both programs with high distinction.
This fund was established in honor of Namita Pal's enthusiasm for her son's career in music and her desire for her students to excel in their musical pursuits. The Namita Pal Commemorative Award is given to the winner of the Woodwind Concerto Competition at IU School of Music.