Trombone News
Upcoming Events:
See a complete list here on the Trombone Area calendar
IU Reunion Trombone Quartet-Masterclass
Thursday 3/5 at 8:30pm, MA452
Theme: "If I knew then, what I know now."
Practical advice for IU trombone students.
Featuring: Dr. Jonathan Whitaker, Henry Henniger, Timothy Dugan, and J. Bryan Heath
Dr. Jonathan Whitaker joined the faculty of the University of Alabama in the fall of 2009.  Whitaker is in great demand as a guest artist and has appeared at some of the most prestigious music schools in the country including The Juilliard School, New England Conservatory, Yale University, Indiana University and many more. 
In 2013, Whitaker gave the world premiere of Jim Stephenson's Three Bones Concerto commissioned for the University of Alabama Wind Ensemble along with Joseph Alessi and Peter Ellefson.  He also performed the work at the 2013 Eastern Trombone Workshop with the United States Army Band "The Pershing's Own", again with Alessi and Ellefson.  Whitaker has also performed as a soloist in Carnegie and has performed twice with the New York Philharmonic.  Whitaker serves on the faculty of the Alessi Seminar and is the trombone mentor for the National Music Festival in Chestertown, MD. 
Dr. Whitaker holds degrees in trombone performance from Murray State University and the University of Minnesota and the Doctor of Music degree in Brass Pedagogy at Indiana University where he served as Associate Instructor of Trombone from 2001-2004.  Dr. Whitaker's primary teachers include Ray Conklin, Tom Ashworth, M. Dee Stewart, Peter Ellefson and Joseph Alessi with additional studies with Arnold Jacobs, Edward Kleinhammer, Michael Mulcahy, Charlie Vernon and Douglas Wright. Jonathan Whitaker is an Edwards Performing Artist
Henry Henniger is assistant professor of trombone at University of Oregon and is principal trombone of the Eugene Symphony, Portland Opera, and Oregon Ballet Theater. He also performs frequently with the Sun River Music festival, Oregon Bach Festival, Oregon Symphony, Spokane Symphony, and Seattle Symphony. Henry has been a featured soloist with several orchestras and wind ensembles throughout the region including central Oregon Symphony, Linfield College Wind Ensemble, Oregon State wind ensemble, University of Portland, University of Oregon and the Vancouver Symphony (WA). Henry received his bachelors degree in trombone performance from Indiana University and his Master degree at Manhattan School of Music where he was a member of the prestigious Orchestral Performance program.
 
Timothy Dugan attended The College of New Jersey where he earned a bachelor's degree in music education in 2000. In 2002, he earned a master's degree in music performance from Indiana University in Bloomington. Since August of 2003 he has been a member of a premier military band in Washington, DC, and is an active freelance musician in the DC/Baltimore area. His trombone instructors included Donald Harwood from The College of New Jersey, and M. Dee Stewart and Peter Ellefson from Indiana University.
J. Bryan Heath, a native of Slaughters, KY, is currently the Bass Trombonist of the Owensboro Symphony, the Illinois Symphony, and Orchestra Kentucky of Bowling Green.  He is now a Doctoral Candidate in Trombone Performance at Indiana University.  Bryan's principal teachers include Raymond L. Conklin, M. Dee Stewart, and Arnold Jacobs.  An active teacher, he served as Adjunct Trombone Faculty at Indiana State University from 2006-2009, and Murray State University in the spring of 2012.  As a freelance artist Bryan has performed with the Chicago, Nashville, Alabama, and New Mexico Symphonies.  Having grown up on a horse farm in rural Kentucky, Bryan enjoys reaching back to his roots by serving as the lead singer, guitarist, and yodeler in the traditional Cowboy Band Suede Saddle.
IU Brass Concerto Competition Winners:
(Feb. 9, 2015) Congratulations to Brennan Johns (euphonium) and Kyle Gordon (bass trombone) on winning the IU Brass Concerto Competition! Brennan, who studies with Professor Lenthe, will be playing the Lisjak Concerto, and Kyle, who studies with Professor Stewart, will be playing Daniel Schnyder's subZero.
BBB Event:Randy Hawes Recital- Fantasy and Architecture
Monday February 2nd at 7pm in Auer Hall
Bass trombonist Randall Hawes and pianist Kathryn Goodson present a program structured around three major works interspersed with short pieces.   Repertoire includes recently recorded and released Fantaisie dans le Style de Richard Strauss (2000) by Fabien Gabel, Liquid Architecture (2012) by David Biedenbender, written for Hawes/Goodson and recorded in 2013, as well as an architectural pinnacle: a consortium premiere of the Kleinhammer Sonata for Bass Trombone and Piano (2014) by John Stevens.

Randall Hawes has been bass trombonist with the Detroit Symphony Orchestra since 1985. In addition, he has performed with ensembles including the Pittsburgh, Boston, Cleveland and Chicago Symphony Orchestras, the Los Angeles Philharmonic, and, the Grand Teton Music and Saito Kinen Festival Orchestras. He first performed with the World Orchestra for Peace (WOP) in 1995 when Sir George Solti invited him to help celebrate the 50th anniversary of the United Nations in Geneva, Switzerland. Hawes' association with WOP continues with Solti's successor, Valery Gergiev, and multiple international recordings and tours, including a July 2014 London Proms performance commemorating the beginning of World War I. Hawes has recorded two solo bass trombone albums—an all Russian program, Melodrama, and a collection of American music, Barn Burner, both with pianist Kathryn Goodson. In addition to weekly worldwide web DSO broadcasts, his orchestral work be heard on DSO recordings under music directors Leonard Slatkin, Neeme Järvi and Günther Herbig, and with the Chicago Symphony under Solti and Riccardo Muti. Since 2004, Hawes has been a lecturer in trombone and brass chamber music for the Bienen School of Music at Northwestern University, and since 2009 a faculty member at the annual Gene Pokorny Low Brass Seminar in California. Hawes holds a Bachelor of Music in Music Education from Central Michigan University, where he studied with Dr. William Rivard. www.bigtrombone.com
Kathryn Goodson, pianist, has performed collaborative recitals throughout the United States, Europe and Japan. Her 2013-14 season included concerts at the Detroit Institute of Arts, Stanford University, the Italian Embassy in Washington, D.C., the first ever Alumni-Konzert at the Musikhochschule Karlsruhe, Germany and the Grand Teton Music Festival, Wyoming. Her collaborations have been documented on CDs from Innova (saxophonist Tim McAllister), Albany (Randall Hawes), and Equilibrium (Caroline Helton). BELLE NUIT, a 2-CD set of romantic French music for piano and winds, curated and produced by Ms. Goodson, was released in 2014 by Navona Records through NAXOS. Featured partners, in addition to Randy Hawes and Tim McAllister, are saxophonist Donald Sinta and hornist Gail Williams. In Ms. Goodson's Ann Arbor community, she is a saxophone and opera pianist/coach for the University of Michigan School of Music, Theater and Dance and a regular ensemble guest of both the Ann Arbor and Detroit Symphony Orchestras.  KG's projects have included Charles Ives Festivals, teaching American Art Song in Germany, Concerts4aCause and a master class for American schools, Songs4Winds.  Her BM in Piano Performance is from Oberlin Conservatory with Robert Shannon; her MM and DMA in Collaborative Piano are from the University of Michigan with Martin Katz; her Konzertexam in Art Song with highest honors as a Fulbright Scholar is from the Musikhochschule Karlsruhe, Germany, with Harmut Höll. www.kathryngoodson.com.
Bass Bone Bonanza (BBB)!!
The sabbatical of M. Dee Stewart at the Indiana University Jacobs School of Music has created an opportunity to feature the bass trombone. Jared Rodin, the acting bass trombonist of the Indianapolis Symphony, will teach Stewart's trombone studio during his leave. The studio of 18 consists of 6 bass trombonists this year.
Additionally, with the aid of the Trombone Artistic Activity Fund, three major American bass trombonists have been enlisted to come to campus for two day mini residencies. The guests will teach the bass trombonists in the studio, present master classes, and perform recitals. Below is the schedule of these outstanding bass trombonists:
October 26th: James Markey, Boston Symphony Orchestra- Recital Sunday October 26 7pm-8pm in Ford Hall; Q&A Session 9pm-10pm Auer Hall Green Room
November 10th: Gerry Pagano, St. Louis Symphony- Recital Monday November 10th 7pm-8pm in  Ford Hall; Q&A/Reception 8pm-9pm in M350
Sunday, January 18, 6pm-9pm MA452: Alumni Panel, featuring Wes Ballenger, bass trombonist of the United States Army Field Band
Monday, February 2- Randy Hawes, Detroit Symphony Orchestra- Recital Monday Feb. 2 7pm-8pm in Auer Hall; Q&A/Reception 8pm-9pm in M350
Past Events:
Bass Bone Bonanza Event!
Recital: Gerry Pagano; bass trombone of the St. Louis Symphony
Monday,November 10, 2014 7pm Ford Hall
Performers
Gerry Pagano, bass trombone & euphonium
Peter Ellefson, trombone
Carl Lenthe, euphonium
Daniel Perantoni, tuba
James Land, tuba
James Cromer, percussion
Julian Loida, percussion


Repertoire
Antonio Vivaldi: Praeludium in C Minor (contra bass trombone and piano)
Shostakovich: Moderato in A Minor for cello and piano
Rob Deemer: Affections for Bass Trombone and piano
Kennedy: Distant Channels for bass trombone and percussion
Hennagin/Lucas: Selections from "Three Emily Dickinson Songs"
Stevens: Dances for solo tuba/euphonium and three tubas


About the Artist

Now in his 19th season as Bass Trombonist with the St. Louis Symphony, Gerry Pagano is originally from Athens, Georgia. He received a BM and MM from the Juilliard School in 1987, and was a member of the San Francisco Ballet Orchestra for eight seasons. He has performed with numerous orchestras, including the San Francisco Symphony, the Metropolitan Opera of New York, the San Francisco Opera, the Tanglewood Fellowship Orchestra, and the Grand Teton Music Festival Orchestra.

His teachers include Charles Vernon, Phillip Jameson, Douglas Yeo, Edward Klienhammer, Arnold Jacobs, Steve Norrell,and Per Brevig.

He has given master classes at the International Trombone Festival (1996) the Eastern Trombone Workshop, the University of Georgia, The Juilliard School, Manhattan School of Music, the University of Missouri, the University of Illinois, Illinois State University, Indiana University, the University of Missouri at Kansas City, Milliken University, Texas Tech, the University of Michigan, the University of Texas, Texas Christian University, Baylor University, Austin Peay University, the University of Wisconsin, Truman State, Western Michigan, Univ. of Kansas, Columbus State, Alabama, Kennesaw State, Mercer College, Young Harris College, and the New World Symphony.

In 2008 he released his first solo CD, Departure, followed in October of 2011 by Connections, a recording featuring a new bass trombone solo written for Mr. Pagano by James Stephenson, entitled The Arch. He is a member of the Trombones of the St. Louis Symphony, a chamber ensemble performing concerts and master classes in the Midwest region. The quartet has also released 4.1 and Fleur de Lis. Gerry is also a founding member of the St. Louis Low Brass Collective, a non profit organization designed to support and promote education and performance for St. Louis area low brass musicians. The LBC brings top national artists to St. Louis for masterclasses, commissions new compositions and arrangements, and hosts an annual Gala concert.

He has taught low brass at the University of Missouri-St.Louis for eight years and has taught several summers at Interlochen Arts Camp.

Over his career, he has performed many musical styles worldwide, traveling to Alaska, Puerto Rico, China, Japan, Saudi Arabia, England, France, Germany, Spain, and across the United States, from California to New York. He has performed music ranging from marching band, dixie land, big band jazz, Chinese funerals, disco, salsa, opera, ballet, brass quintet, Broadway shows such as Chorus Line and Annie, and with pop stars Liberace, Sammy Davis Jr., Bob Hope, and Johnny Mathis. He performed four complete cycles of Richard Wagner's Ring in 1990 and the Nutcracker over 300 times.

He is an Edwards artist and has been working with Christian Griego on the development of the B502-D.
For more information on all School of Music Events: http://www.music.indiana.edu/events/
Monday November 3, 8pm MA452: Adam Bregman Masterclass
Adam Bregman (sackbut) received a Bachelor's degree in Music Performance from the University of Indiana in Bloomington, where he was under the tutelage of M. Dee Stewart. Upon beginning his studies at the university on modern trombone, he quickly took an interest in early music. He took lessons on tenor and bass sackbuts with Wendy Gillespie (viola da gamba) and Gregory Ingles. Adam earned his Master's degree in early music performance at the Hochschule für Musik in Cologne (Germany) with Wim Becu.

He is a member of the early brass ensemble Oltremontano (Belgium). He performs regularly in Europe and the United States with ensembles including Piffaro, the Renaissance Band (USA), the Huelgas Ensemble (Belgium), His Majesty's Sagbutts and Cornetts (England), B'Rock Baroque Orchestra (Belgium) and Capella Cracoviensis (Poland).
On classical and romantic trombones, he has been invited to play with such orchestras as l'Orchestre des Champs-Elysées (France), le Cercle de l'Harmonie (France) and Insula Orchestra (France).
Recital: James Markey; bass trombone
Sunday, October 26, 2014 8pm Auer Hall

James Markey, bass trombone
Kimberly Carballo, piano
Peter Ellefson, tenor trombone

Repertoire
Koetsier: Allegro maestoso, Op. 58 No. 2
F. Strauss: Nocturno
Small: Conversation for tenor and bass trombones
     (with Peter Ellefson, tenor trombone)
D. W. Brubeck: Three "Stereograms" for bass trombone solo
     (Nos. 6, 7, and 19)
Arban: Theme and Variations on "The Carnival of Venice"

James Markey

joined the Boston Symphony Orchestra as bass trombonist in August 2012. Having joined the trombone section of the New York Philharmonic in 1997 as associate principal trombone, he became the Philharmonic's bass trombonist in 2007. Previously, he was principal trombone of the Pittsburgh Symphony Orchestra and a member of the Sun Valley Summer Symphony. Mr. Markey has had numerous solo appearances with the Pittsburgh Symphony Orchestra, Sun Valley Summer Symphony, United States Army Band, Hora Decima Brass Ensemble, New York Staff Band of the Salvation Army, and the Hanover Wind Symphony. A sought-after educator, Mr. Markey has been a featured artist at the International Trombone Festival, the Eastern Trombone Workshop and the conferences of the New Jersey Music Educators Association, and the New York State School Music Association. He has also appeared as a guest recitalist and clinician at major educational institutions, including the University of Toronto's Glenn Gould School, Manhattan School of Music, James Madison University, the University of Calgary and Mount Royal College, Rutgers University, and the Boston Conservatory. He serves on the faculties of the Juilliard School and the Mannes College of Music. He was on the faculty of the Juilliard School's Pre-College Division from 1998 to 2007, and has served on the faculties of New York University, SUNY-Purchase, Montclair State University, and Sarah Lawrence College. James Markey has released three solo recordings: Offroad, on tenor trombone, released in 2003; On Base, a solo bass trombone recording, released in 2009; and an education album of orchestral excerpts for bass trombone titled The Bass Trombonists's Listening Guide: Excerpts from the Opera and the Orchestra, with Denson Paul Pollard. He can also be heard as a soloist on the Hora Decima Brass Ensemble's recording of Janko Nilovic's Concerto for Two Trombones. Mr. Markey studied with Joseph Alessi at the Juilliard School, where he received his bachelor and master of music degrees in 2005 and 2006.
Kaz Kruszewski Masterclass- Monday October 13th 6:30pm MA 452

Topic: "Professional Orchestra Auditions: Advancing past the Preliminary Round"
SSgt Kaz Kruszewski will share his approach, demonstrate excerpts, and coach students in the art of advancing at a professional orchestra auditions.  Extraneous topics to include military bands, and bass/tenor trombone doubling. 

Staff Sergeant Kaz Kruszewski is a trombonist with the Air Force Band of Mid-America, Scott AFB Illinois.   He previously held the same position with the Air Force Band of Flight, Wright-Patterson AFB, Ohio from 2004-2013.  Sergeant Kruszewski notably has been a bass trombone finalist with the Atlanta and Milwaukee Symphony Orchestras, and tenor trombone semi-finalist with the Boston, Cincinnati, and St. Louis Symphony Orchestras. He has performed with the New York City Ballet, Columbus (OH) Symphony, and Dayton Philharmonic Orchestras as well as the London production of Blast! and the Temptations.   Sergeant Kruszewski received a Bachelor of Science in Music and Mathematics degree from Indiana University in 2001.
J. Bryan Heath, bass trombone and Deanna Shipley, piano- Monday October 6th
Monday October 6th
Recital 7pm-8pm Ford Hall
Reception and Q&A-8pm-9pm M350
Repertoire:
DiLorenzo: Sonata for tuba and piano
Mahler: Selections from "Des Knaben Wunderhorn"
Williams: Concerto for tuba
J. Bryan Heath, a native of Slaughters, KY, is currently the Bass Trombonist of the Owensboro Symphony, the Illinois Symphony, and Orchestra Kentucky of Bowling Green. He is now a Doctoral Candidate in Trombone Performance at Indiana University. Bryan's principal teachers include Raymond L. Conklin, M. Dee Stewart, and Arnold Jacobs. An active teacher, he served as Adjunct Trombone Faculty at Indiana State University from 2006-2009, and Murray State University in the spring of 2012. As a freelance artist Bryan has performed with the Chicago, Nashville, Alabama, and New Mexico Symphonies. Having grown up on a horse farm in rural Kentucky, Bryan enjoys reaching back to his roots by serving as the lead singer, guitarist, and yodeler in the traditional Cowboy Band Suede Saddle.


Deanna Shipley Catlett is a native of Scottsville, Kentucky and earned a Bachelor of Music Degree in Piano Performance from Western Kentucky University and a Master's Degree in Piano Accompanying from Arizona State University.  She was the keyboardist for Orchestra Kentucky from 2006-2013 and enjoys working as a collaborative pianist, substitute church musician, and singing in her church chancel choir.  She also served on the Kentucky Music Teacher Association Board from 2005-2012 as a competitions official and is a former instructor for Western Kentucky University.  Catlett resides in Louisville, Kentucky, with her husband and two young daughters
Lander-Milling Project
Featuring: Allison Lander (piano) and Darrin Milling (bass trombone)

Program:
Johann Immanuel Müller (1774 - 1839) - Praeludium, Chorale, Variations & Fugue (1839) for Bass Trombone & Piano
Praeludium: Andante sostenuto
Chorale 
Sergei Vasilievich Rachmaninoff (1873 - 1943) - 12 Romances,  Opus 14
No. 8:  Oh, Do Not Grieve! / О, не грусти! 
Francisco Braga (1868 - 1945) - "Anoitecendo…" melodia
Solo piano feature (composer / work tba)
Allison Lander, piano solo
David Fetter- "Spain" 
Darrin C. Milling, bass trombone solo
 
Gordon Jacob (1895 - 1984) - "Cameos" for Bass Trombone with Piano
IV. Phantom Procession
V. Derby Winner
Allison Lander, pianist and teacher, debuted at age fourteen with the Union Symphony Orchestra, and has since become an active performer throughout the Northeast, playing solo and chamber music programs. She has performed in at the Heifetz International Music Festival and Bach Festival of Philadelphia, and performed in Master Classes under the direction of renowned pianists Angela Hewitt, Leonard Hokinson, Ruth Laredo, and Jon Nakamatsu.  In addition to performing, Allison has been teaching piano privately for over ten years, and is also a faculty member at both the Great Neck Music Conservatory and Bloomingdale School of Music, in and around New York City.  Undergraduate studies at Ithaca College (BM and BA, English Literature, magna cum laude, 2003), and graduate studies at Manhattan School of Music (MM, 2006).
Bass Trombone Principal of São Paulo State Symphony Orchestra since 1998,  Darrin C. Milling was born in Baltimore, Maryland (USA) and is an artist of the Edwards Instrument Company, co-founder of Low Brass Project and member of São Paulo Brass Quintet (Brazil). Since 2006, he's performed with Pousane Decouple, founded by trombone legend Glenn Dodson (1931-2007), and, previously, Darrin held the bass trombone position of the Pennsylvania Opera Theater Orchestra, was a fellowship participant of New World Symphony and is the youngest appointed member to the former Chesapeake Brass Quintet and Louis Hamlin Baltimore Big Band. Milling has performed with The Philadelphia Orchestra, Baltimore Symphony, Symphonic Orchestra of Tenerife (Canary Islands) and the National Orchestra of Ecuador. In addition, he appeared as soloist in front of ensembles such as the DePaul Chamber Orchestra, Chester Community Concert Band, the São Paulo State Youth Symphonic Band, Luzerne Music Center's Symphonic Band and on series such as Naples Classic Chamber Concerts in Florida.  He earned his Bachelor´s Degree from The Curtis Institute of Music and did graduate studies at the Esther Boyer College of Music. As a teacher, he served on the faculty of Wilkes-Barre University's School of Music and has presented master classes at Tanglewood Music Center, Conservatório de Tatuí (State of São Paulo, Brazil),  Peabody Conservatory, Eastman School of Music and New England Conservatory. Darrin received the 'Cultural Merit Award' and distinguished title of 'Comendador' from The Carlos Gomes Brazilian Society of Arts, Culture and Education.
Larry Zalkind and Kathryn Goodson present Guest Recital
[March 11, 2014] Larry Zalkind and Kathryn Goodson presented a guest recital titled "Titans and Transcriptions" this evening featuring works by Mozart, Pryor, Brahms, and more. The recital was preceded by a masterclass with Kathryn Goodson who worked with members of the trombone studio on the performance and interpretation of songs.
Brennan Johns Wins IU Brass Concerto Competition
We are proud to announce that Brennan Johns has won the Indiana University Brass Concerto Competition. He will be performing the Brubeck Concerto for Bass Trombone and Orchestra later in the semester.
Weston Sprott Masterclass
[January 13th 2014] IU trombonists recently had the pleasure of working with Weston Sprott in a masterclass. Mr. Sprott was previously a student of the Jacobs School of Music and  plays with the Metropolitan Opera. Pictured: Brennan Johns working with Weston Sprott during the masterclass.
IU Brass Concerto Competition Winners
[Feb. 24, 2012] Matt Crozier, Junior, Trombone, and Chris Leslie, First Year MM, Euphonium, were chosen as winners of the 2011-2012 IU Brass Concerto Competition. Matt will perform the Tomasi Trombone Concerto with the IU Symphony Orchestra on March 7, 2012, and Chris will perform the Vladimir Cosma Euphonium Concerto with the IU Wind Ensemble on April 10, 2012. Congratulations to Matt and Chris!
Ryan Diefenderfer Wins ETW Composition Competition
[Feb. 18, 2012] Ryan Diefenderfer, a current Junior at the Indiana University Jacobs School of Music, was recently announced as the winner of the 2012 Eastern Trombone Workshop's National Composition Competition for his piece, "Stephansdom."  The Eastern Trombone Workshop is an annual conference held in Ft. Meyer, VA that is put together by the U.S. Army Band "Pershing's Own," and has evolved as one of the premier trombone events in the United States.  The ETW composition competition is meant to expand the repertoire for the trombone canon, and this year the competition consisted of composing a piece for solo bass trombone with accompaniment of 1-8 wind instruments.

Ryan Diefenderfer's composition, "Stephansdom," is a solo piece for bass trombone with trombone choir accompaniment.  Ryan describes his composition, "Stephansdom," below:

"The title of the piece refers to Stephansdom, one of Vienna's most notable architectural gems.  Stephansdom is a cathedral built mostly in the Gothic style, and quickly became one of the buildings that I grew exceptionally fond of during my past semester abroad in Vienna.  Because my classes were located in the inner city of Vienna, I had the great fortune of walking by marvels such as Stephansdom on a daily basis.  I quickly became enamored with the cathedral, and knew that I wanted to dedicate my next composition to it.

The piece contains four movements, each one with a specific theme relating to Stephansdom.  The first movement tells the story of the cathedral's construction, which dates all the way back to 1137AD.  The second movement is a tribute to "Steffl," the cathedral's north tower that marks the highest point in Vienna's skyline.  The third movement depicts the 1945 fire that destroyed Stehphansdom's roof and much of the interior.  Finally, the fourth movement is a tribute to Anton Pilgrim, one of the most beloved architects who worked within the cathedral."
Mike Miragliotta Finalist in ITA Competition
[Feb. 1, 2012] Congrats to Performer Diploma student Mike Miragliotta, who is a finalist in the Lewis Van Haney Philharmonic Prize Tenor Trombone Competition. Mike is one of three finalists who will compete in the final round of the competition duting the International Trombone Festival at the Paris Conservatory on July 4-7, 2012. Competitors are required to perform standard trombone orchestral excerpts, and the competition is named for famed trombonist Lewis Van Haney, who taught at the IU Jacobs School of Music for twenty five years.  Originally from New Jersey, Mike earned a Bachelor's Degree in Music Education from James Madison University in Harrisonburg, VA, and a Master's degree in Trombone here at IU. He is a student of M. Dee Stewart.
Trombone Studios to Host "Audition Eve" Recitals
[Jan. 4, 2012] This spring the IU Trombone studios will be putting on three "Audition Eve" recitals featuring Jacobs School of Music trombone faculty and students.  The recitals will take place on the Friday evening of each JSoM audition weekend as a way of welcoming prospective trombone students to IU and showing them some of what the JSoM trombone area has to offer.  The dates of the recitals are Jan. 13 and Feb. 3 at 7pm in Ford Hall, and March 2 at 8pm in Auer Hall.  There will be a reception in the Auer Hall Green Room following each of the recitals during which prospective students and their families can meet current students and professors.
IU Trombone Quartet Wins ETW Competition
[Dec. 15, 2012] The Indiana University Trombone Quartet, from the Jacobs School of Music, was recently selected as the winner of the 2012 Eastern Trombone Workshop National Trombone Quartet Competition, sponsored by The United States Army Band.

The quartet, comprised of Mike Miragliotta, Matt Crozier, Chao-Chun Cheng and Eric Rogers, will be featured in recital at the Eastern Trombone Workshop March 21-24 in Fort Myer, Va.

"The Brass Department of the Jacobs School of Music is very pleased with the success of this quality group," said M. Dee Stewart, professor of trombone, chair of the department and coach of the quartet. "This is a great honor for them, and we are very proud of Mike, Matt, Chao-Chun and Eric."

Their selection is the result of a recorded audition adjudicated by members of the National Symphony Orchestra low brass section and trombonists from The U.S. Army Band.

"We spent many hours recording ourselves and listening back to get things just right," said Miragliotta. "Our coach, Professor Stewart, always tells us what we need to hear to take us to the next level. We really have fun playing together, so we're excited to start preparing a recital program for the event."

While Miragliotta, Crozier and Rodgers study chiefly with Stewart, and Cheng studies mainly with Professor Peter Ellefson, Miragliotta said that the whole group is greatly influenced by all three Jacobs trombone professors, including Carl Lenthe.

The Eastern Trombone Workshop has become one of the largest annual events for trombone in the world. It is the only professionally organized and staffed trombone workshop or conference in the United States. Soloists, educators and students—as well as university and college trombone ensembles from around the world—attend the workshop annually.
Paradis Accepts Position at Bemidji State University
[July 11, 2011] Indiana University Jacobs School of Music Doctoral Candidate Sarah Paradis has accepted the position of Assistant Professor of Low Brass and Music Theory at Bemidji State University in Bemidji, Minnesota.  Sarah will be teaching trombone, tuba, trombone choir, music theory, and piano class at BSU.  She is currently finishing her DM in Brass Pedagogy at the Jacobs School of Music. Throughout her graduate studies at IU, she has studied with Professors Pete Ellefson, Carl Lenthe, M. Dee Stewart,and Jeff Nelsen. 
Sarah earned her Master's Degree in Trombone Performance from IU in 2007 and her Bachelor's Degree in Music Education from Ithaca College in 2005. She has played Principal Trombone in the Richmond, Indiana Symphony Orchestra since 2008. Sarah will continue to tour the country performing recitals and presenting masterclasses as the trombonist in the Mirari Brass Quintet.
Two JSoM Trombonists Win Positions with USAF Heartland Band
[July 9, 2011] Trent Lockhart, MM student with M. Dee Stewart, and Ben Huseby, former student of Professor M. Dee Stewart, have both won positions with the United States Air Force Heartland of America Band. The Heartland Band's various ensembles give more than 450 concerts per year throughout eight different states. Trent and Ben will be performing with Brass in Blue and Noteables jazz ensemble playing bass trombone and sharing duties on tenor and bass with the concert band. They will be stationed at Offutt Air Force Base, near Omaha, Nebraska. Congratulations, Ben and Trent!
New Event! Jacques Mauger to Give Masterclass, Courtois Instruments Visits IU
[April 7, 2011]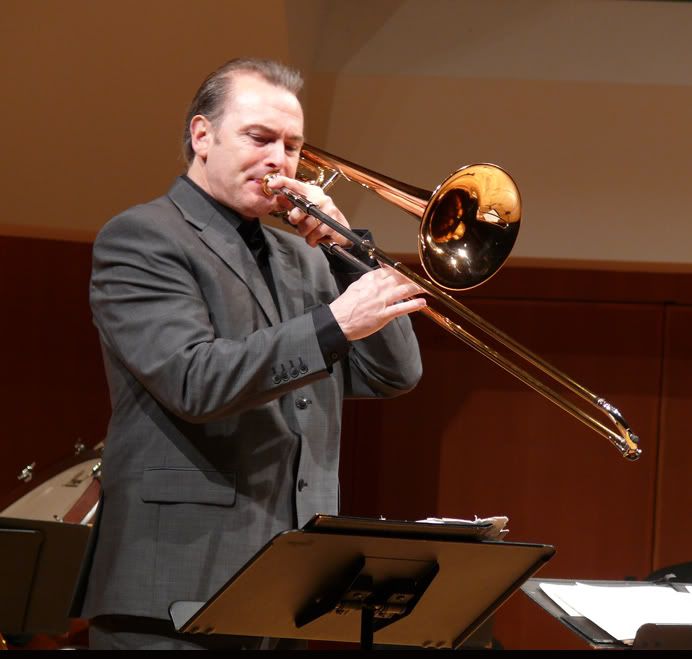 The Jacobs School of Music is pleased to welcome renowned trombone soloist Jacques Mauger for a masterclass on Tuesday, April 12 at 6:30pm in MC036 of the Musical Arts Center, an event made possible by Antoine Courtois Paris distributed by Pro Winds. The evening will begin with a showing of Courtois trombones available for playing followed by a recital performance by Mr. Mauger and Eglantina Grapshi, piano. Mr. Mauger will then lead a masterclass, coaching trombone students of the Jacobs School of Music. Come join us! Check out Jacques Mauger's website to view pictures, CD releases and more: jacquesmauger.com


Chao-Chun Cheng to Participate in Pacific Music Festival
[April 7, 2011]

Chao-Chun Cheng, Performance Diploma student and member of Peter Ellefson's trombone studio, has been chosen to participate in the 2011 Pacific Music Festival under the Artistic Direction of Fabio Luisi. The Pacific Music Festival offers a comprehensive orchestral training program to very select participants. This summer, Chao-Chun will be among four trombonists chosen for this opportunity! Conductors of the Pacific Music Festival have included Leonard Bernstein (founder), Michael Tilson Thomas, Christoph Eschenbach, Charles Dutoit, Bernard Haitink, Valery Gergiev, Fabio Luisi, and Riccardo Muti. Congratulations, Chao-Chun!

Sarah Barbash-Riley to Perform in Sacred Music Festival in Ecuador
Sarah Barbash-Riley, BM trombone student of Carl Lenthe, was asked to perform as part of Ensemble Lipzodes in Ecuador's "IX Festival Internacional de Musica Sacra". They will also perform at Christ Church Cathedral in Indianapolis.

Sarah Barbash-Riley was selected for Early Music America's 2011
Festival Ensemble at the Young Performers Festival. The ensemble represents the brightest and the best of early music talent at the
college/university/conservatory level in North America.
Adam Bodony as General Manager for New World Youth Orchestras
Adam Bodony, MM trombone student and member of Carl Lenthe's studio, was hired as General Manager for the New World Youth Orchestras after serving as Assistant Conductor for two seasons.  The New World Youth Orchestras is in residence at the Hilbert Circle Theatre, home of the Indianapolis Symphony Orchestra, and the organization consists of three separate orchestras. Well done, Adam!
Congratulations! Linda Pearse as New Music Professor at Mount Allison University
Linda Pearse has accepted a full-time tenure-track Professor of Brass position at Mount Allison University in New Brunswick Canada. Mount Allison is the number one ranked liberal arts and most endowed university in Canada. Mount Allison has produced more Rhodes scholars than any other university in North America and maintains exceptionally high standards of academic achievement. The music department is renowned for its high quality undergraduate music education and friendly atmosphere. The position begins July 1st, 2011, but classes begin just until after labor day in September. Her husband, Francois, and dog, Rapha, will move with her sometime this summer. Her main duties will teaching the brass instruments, a brass tech course and a brass choir. The university resides in a small town nestled on the southern provincial border to Nova Scotia. It is located alongside the Bay of Fundy and is about a forty minute drive from the Northumberland Strait (leading to the Atlantic Ocean). Linda Pearse will finish her doctorate in the Brass Department at IU in the coming months. Linda has studied with all three of the IU Brass Department trombone professors.
Larry Zalkind Visits IU
We were very pleased to host Acting Principal Trombonist of the Los Angeles Philharmonic and former Principal Trombonist of the Utah Symphony (1981-2009) Larry Zalkind who led a masterclass for the Jacobs School trombone studio on February 24th. In his masterclass, Mr. Zalkind performed solo pieces, coached students, and discussed his experiences as a soloist and orchestral musician. Mr. Zalkind is a longtime performer at the Grand Teton Music Festival, member of the Summit Brass, former faculty of the University of Utah, and is sought after as a soloist, clinician, and teacher. Check out Mr. Zalkind's website: zalkindmusic.com

3 Audition Eve Recitals - Meeting the Trombones of IU
The trombone department of the Jacobs School host recitals the Friday night before audition weekends, giving auditionees the chance to hear faculty and student performances, meet the members of the studios and enjoy some delicious cookies and punch! Auditionees and visitors are encouraged to bring their horns and share in a mass trombone choir reading of Let There be Peace on Earth, a tradition that everyone within earshot enjoys! This years' Audition Eve dates are scheduled for (click to view a program):

January 14, 7:00pm in Auer Hall featuring faculty soloists and the IU Trombone Choir

February 4, 7:00pm in Ford Hall featuring student concerto finalists

March 4, 7:00pm in Ford Hall featuring faculty soloists and the IU Trombone Choir
Highlights: Massimo La Rosa and Cleveland Orchestra Residency!
Musicians of the Cleveland Orchestra visited IU January 24th through 26th, conducting masterclasses, lessons, open rehearsals, and side-by-side rehearsals with student ensembles. Massimo La Rosa, principal trombonist of the Cleveland Orchestra since 2007, led a masterclass with the trombone department, listening to Jacobs School trombone students, giving feedback, and sharing audition tips, sound concepts, posture suggestions, and approaches to musical thinking.
On Tuesday, the trombone studios joined Mr. La Rosa for a group warm-up session, starting the morning with more helpful playing tips, this time everyone with trombone in-hand! The Cleveland Orchestra, under the baton of Maestro Franz Welser-Möst, held a rehearsal free to the public of the works for Tuesday evening's concert: Overture to Wagner's Tannhäuser, Strauss' Ein Heldenleben and Bartok's Piano Concerto No. 2. The rehearsal and concert that evening were very well attended and performed.
On Wednesday evening, Mr. La Rosa, joined by Cleveland Orchestra principal trumpeter Michael Sachs and keyboardist Joela Jones, also of the Cleveland Orchestra, played a recital featuring works by Dvorak, Gabrieli, Biber, Eden, Guilmant, Ives, Verdi, Janacek, and Weber. Also playing were faculty and students of the Jacobs School of Music.
Throughout his stay, individual students had opportunities to take lessons with Mr. La Rosa and discuss questions and concepts in person. Our sincerest thanks to Mr. La Rosa and the Cleveland Orchestra for their time and enthusiasm last week. What a treat!
Carl Lenthe Performs Faculty Bass Trombone Recital
Professor Carl Lenthe presented a faculty recital on Wednesday, January 19th in Ford Hall, together with Kimberly Carballo on piano. The program included works by Telemann, Wilder, Hidas and Lebedev as well as three traditional spirituals.  It was Lenthe's first recital solely on the bass trombone, and was also the maiden appearance of the new B&S bass trombone, Model "Sarastro" - an instrument of Lenthe's design, the newest result of his collaboration with the B&S Company of Germany. Video clips of the recital can be found here.
Fall 2010 Semester Retrospective: 3 Masters of the Trombone
IU trombone students welcomed teachers and performers from all corners of the Country who taught lessons, performed recitals, and conducted masterclasses this fall. Stephen Fissel, bass trombonist of the Seattle Symphony, Gerry Pagano, bass trombonist of the St. Louis Symphony, and Doug Yeo, bass trombonist of the Boston Symphony all gave of their time and artistry.
Steve Fissel joined the IU faculty as a visiting lecturer in music, leading Professor Ellefson's studio as he was on sabbatical. An IU Jacobs School of Music alumnus and Indiana native, Mr. Fissel joined the Seattle Symphony Orchestra in 1981 after playing in the New Orleans Philharmonic and has been the SSO's bass trombonist since 1993. A former faculty member of the University of Puget Sound and the University of Washington, he is an active teacher and performer throughout the Pacific Northwest.
Amazingly, Mr. Fissel has performed some 28 complete cycles of Richard Wagner's Der Ring des Nibelungen playing at different times principal trombone, bass trumpet, and bass trombone/contrabass trombone. Working with two full sections of Jacobs School low brass players, Mr. Fissel led a masterclass on November 8th devoted to the music for low brass in Wagner's Ring Cycle. This proved to be a highlight for the players involved in rehearsals and performances of the music as well as the students observing. And... it was loud.
During his visit, Mr. Fissel taught studio lessons, coached chamber groups, guest-led the warm-up class and a tuba orchestral excerpt class, and facilitated masterclasses. In these masterclasses, he performed recital pieces on both bass trombone and contrabass trombone, shared ideas on concepts such as range building and preparation before auditions/recitals, and fielded questions from the students. Our studios would like to thank Mr. Fissel for his attention and dedication to the Jacobs School students and trombone department. We greatly enjoyed having him!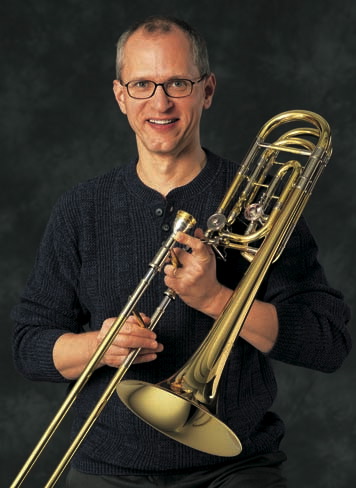 Doug Yeo is widely known as a performer, pedagogue, clinician, journalist/author, radio and television guest, and website innovator among other distinctions. IU had the pleasure of hosting Mr. Yeo on September 20th for a masterclass in which he performed etude selections and excerpts while sharing thoughts about "making music fresh each time we revisit it". With a presentation as dynamic as his playing, Mr. Yeo encouraged students to continue thinking meticulously in their practicing. He critiqued players from the Jacobs School of Music and made himself available for lessons. Mr. Yeo's website offers answers and resources for trombonists and other musicians: yeodoug.com
On October 13th we were delighted to host Gerry Pagano, bass trombonist of the St. Louis Symphony Orchestra since 1995 and former bass trombonist with the San Francisco Ballet (1987-95).
In his masterclass, Mr. Pagano performed a bass trombone solo commissioned for him, answered questions about audition success and shared a bit about his background. With performance experience from salsa bands and Broadway shows to opera orchestras and brass quintets, Mr. Pagano was an attraction for IU students with all kinds of musical interests. He was able to work with individual players on orchestral excerpts during the masterclass as well. You can find more information about Mr. Pagano as well as details about his solo cd, Departure, and recently-released Trombones of the St. Louis Symphony cd at gerrypagano.org
Peter Ellefson releases new CD!
4/12/10
Peter Ellefson's CD "Pura Vida" has been released. It was recorded at Indiana University, in Auer Hall at the Jacobs School of Music. The track list, session photos and ordering instructions can be found at www.peterellefson.com
Congrats Pete!!
IU JSoM Trombone Website celebrates 10 years!
11/17/09
Hard to believe, but our trombone web site has been online for ten years already! 
In the summer of 1999, Carl Lenthe enlisted the able help of his student James Monaghan to launch a website "...for information on trombone events, faculty, admissions, and more at the Jacobs School of Music... intended for use by our current and prospective students as well as trombone aficionados and others interested in our program". 
The site has undergone various developmental phases over the semesters.  Another key player was Lenthe's student Matt Calvert, who brought his expertise to the project in the years 2000-2002.  Since that year Lenthe has worked as sole webmaster to keep the web site up to date and informative.  Beginning in 2008, the trombone associate instructor (AI) maintains the 'Calendar' page, which is the most current feature.  All three trombone professors maintain their own web pages, and the "Trombone Area" web site serves as a portal to these more studio specific pages, as well as a resource to JSoM Trombone Area activities and curriculum. 
At one time, the web site contained a message board/chat room page.  While the lively trombone chatter was fascinating, eventually tobacco and pharmaceutical advertisements swamped the system, and the page had to be taken down. 
Take a moment to glimpse through the News Archive pages.  Thanks to all who have helped with the web site, and especially those whose use of it makes it a dynamic part of our program. 
Lenthe featured in popular Rubank Method CDs
11/17/09
From IU News Room release of  October 29th:
BLOOMINGTON, Ind. -- Carl Lenthe, professor of trombone at the Indiana University Jacobs School of Music, is the featured soloist on two newly released CDs contained in H. Voxman's Concert and Contest Collection, featuring the Rubank Method -- one for trombone and one for baritone horn, both with piano accompaniment.
In addition, Kimberly Carballo, interim head opera coach at the Jacobs School, is one of the featured pianists on the trombone CD.
The original release of this venerable series, published by the Hal Leonard Corporation, featured books of solo pieces with piano accompaniment for various wind instruments and represents the "capstone" of the Rubank Method, which ranges from Elementary through Advanced II difficulties. Hal Leonard recently decided to enhance these collections with a CD-ROM containing professional performances of the pieces as well as piano accompaniment tracks for practice purposes.
The recording took place at Aire Born Recording Studios in Zionsville, Ind.
The Rubank Method books have been in wide use in the United States for decades, and many of the world's greatest musicians grew up using this series.
"Growing up, I practiced my way through the Rubank Method and was therefore glad when the Hal Leonard Corporation chose me to record these recital pieces for both trombone and euphonium," said Lenthe. "The repertoire is of medium technical difficulty, and I feel it is valuable for students to hear them played with advanced musicality and professional polish. Coincidentally, this serves very well as a stepping stone to my solo CD, "The Audition Window/Timeless Trombone Tales", which contains a number of the most standard recital pieces expected at the upper collegiate level. I am pleased that both of these resources can serve our young up-and-coming musicians."
---
11/17/09
It is always good to know where the trombone friends are.  The Honorable George Hisaeda,  Consul General of Japan at Chicago, is not only a trombone enthusiast, but also an accomplished trombonist!  Serving the consular needs of the Midwest, he is very adept at keeping music in general and trombone specifically in his sites.  As such, he established contact with Professors Ellefson and Lenthe after assuming his duties in Chicago last year.  In October he was touring the State of Indiana, including a visit to Bloomington on Wednesday, October 7th.  During the first half of his day on campus he met with top IU administrators, but the afternoon was set aside for his musical passions.  After a tour of campus with Professor Lenthe and then a meeting with Dean Richards, the Consul General took part in trombone choir rehearsal, playing alongside Professor Ellefson, who joined in for the occasion.  George's wife Midori, herself an avid violinist, was also present, and enjoyed the Brahms repertoire that the trombone choir played.
---
Ensemble placement auditions announced
11/17/09
Ensemble placement auditions for orchestras and Wind Ensemble will take place on Monday 1/11/2010 beginning at 6:30 pm in MA452.  Please sign up in person for the audition in Sycamore Hall 246 before noon on 1/11.  Upon signing up, you will receive your audition time.
Further information and repertoire lists are available here.
Information for placement in Symphonic and Concert Bands is available from the department of bands at (812) 855-1372 or http://www.music.indiana.edu/department/band/
For information about Jazz Band placement, please contact that department through the faculty links found at: http://info.music.indiana.edu/group/page/normal/318.html
---
M. Dee Stewart to premiere Arnold Jacobs videos
9/6/09
A fascinating and promising project, begun from seeds sown at an event many years ago, has advanced from the gestation phase, entered the throes of labor and looks forward to a thoroughbred delivery.
In 1984 IU's Jacobs School of Music hosted the Second International Brass Conference. Over 1300 brass players from around the world attended the event, which filled the Musical Arts Center from June 3rd to 8th.  Professors Philip Farkas (horn), Harvey Phillips (tuba/euphonium), Charles Gorham (trumpet), and M. Dee Stewart (trombone) spent three years preparing for this event.
Arnold Jacobs, Chicago Symphony tubist and pedagogue of international renown, was the honored guest.  He was presented with an award, and during the week there were several events centered on his work.  Professor Stewart, himself a student of Jacobs, recalls, "I was thrilled to have him on campus and arranged for everything that involved him to be professionally videotaped by WTIU.  Nearly nine hours were captured in this manner. Some was edited for production.  Most remained unedited but usable for various observations.  The content is simply amazing and it would be shameful to not present this material to a new generation of musicians."
2009 marks the 25th anniversary of the event.  Stewart's passion for this treasure trove of material, interest from faculty in the Voice, Woodwind and Music Education departments, as well trombone doctoral candidate Bryan Heath's work with this material in the context of his own doctoral project have all led to the project gaining momentum and taking on a format that will make it accessible to current and future students, both at IU and beyond.
Stewart has been revisiting and studying the material, now digitized and comprising seven DVDs, and found them to easily fall into six segments of about one hour each. Zach Glavin, horn student of Professors Seraphinoff and Nelsen, has taken on the technological tasks of editing and formatting, and previews of this work were shown in summer trombone master classes.  The next step is to present the further edited segments in the Monday evening master classes of 9/7, 10/5, and 11/2 (6:30pm in MA452).  These master classes will be for the combined brass department and, interest among further departments having already been expressed, a large attendance is expected. The series will continue in the spring semester.
Professor Stewart who is immensely, and rightfully, proud of this project and all who have contributed to it, hopes that it will take on legs and gallop into its deserving place in the world of music pedagogy.
---
8/6/09
The 'swap weeks' for the fall semester will be 9/21-25 and 11/9-13.  In these weeks, the Stewart studio will be taught by Professor Lenthe, whose studio will be taught by Professor Ellefson, whose studio will be taught by Professor Stewart.  In the spring semester the rotation will go in the other direction.
This is the third year of the studio rotation, a practice that has been enthusiastically greeted by students and faculty alike.
Other 'cross-nurturing' opportunities in the trombone curriculum include master classes, chamber music and orchestra repertoire coachings. 
---
Two Lenthe solo performances on campus this Fall
8/4/09
Professor Lenthe will be giving two on-campus performances early in the fall semester.  A solo recital with pianist Kimberly Carballo is planned for Sunday 9/13 at 8pm in Auer Hall.  The program will include works by Gershwin, Casterede and Dorsey.  On Tuesday 9/29 at 8pm, again in Auer Hall, Lenthe will perform the Howard J. Buss Trombone Concerto with the Wind Ensemble, Professor Pratt conducting.
---
Trombone Choir auditions announced
8/4/09
Trombone Choir auditions will be held on Wednesday, 9/2 beginning at 4pm.  Further information is available here.
A concert of Brahms transcriptions is planned for 11/5.  The yearly  Chimes of Chritmas performance will be on 12/9 in the IU Auditorium.
---
Ensemble placement auditions announced
7/21/09
Ensemble placement auditions for orchestras and Wind Ensemble will take place on Monday 8/31/09 beginning at 6:30 pm in MA452.  Please sign up in person for the audition in Sycamore Hall 246 before noon on 8/31.  Upon signing up, you will receive your audition time.
Further information and repertoire lists are available here.
Information for placement in Symphonic and Concert Bands is available from the department of bands at (812) 855-1372 or http://www.music.indiana.edu/department/band/
For information about Jazz Band placement, please contact that department through the faculty links found at: http://info.music.indiana.edu/group/page/normal/318.html
---
¡Sacabuche! Gets excellent review at Boston Early Music Festival
7/21/09
¡Sacabuche!, the sackbut group led by DM student and adjunct instructor Linda Pearse - and formerly known as the Jordan River Sackbutz, played a concert at the Boston Early Music Festival and received an excellent review from theBoston Musical Intelligencer.  In that "virtual journal and blog of the classical music scene in Boston", Tom Schnauber wrote
"...The possibilities of that sonority were demonstrated with great technical skill and solid musicianship on June 7th at Emmanuel Church in Boston by the ensemble ¡Sacabuche! It was easy to hear why this group, whose members are students and alumni of Indiana University's Early Music Institute, was invited to the BEMF Fringe Series: consisting of six trombonists, five vocalists-one of whom doubled on cornetto-a violinist, and an organist, the ensemble's intonation was flawless, its balance excellent, and its overall sound was deliciously full-bodied and smooth."
"...Dario Castello's virtuosic Quinta Sonata. This delightful little piece featured solo trombonist and leader of the band Linda Pearse tossing phrases back and forth with violinist Martha Perry, whose highly expressive playing made me wish she had been given more to do throughout the concert."
In addition to the original contest submission that resulted in the invitation, Linda and her group were very creative and industrious in raising supplementary funds to make the trip possible.  Our congrats once again the Linda Pearse and ¡Sacabuche!.  Go here to read the entire review.